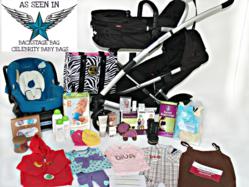 (PRWEB) March 27, 2012
Backstage Bag (http://www.backstagebag.com), known by A list celebrities as the leader in high end celebrity gift bags and baby bags, wows again with an amazing baby basket given to new and soon to be celebrity parents. Backstage Bag produces three baby baskets a year for expectant celebrity parents. These baby baskets include luxurious and unique items carefully chosen with the specific celebrity parent. Products included range from travel stays, beauty products, clothing and accessories for mom and dad to baby strollers, bassinets, cribs, clothing, baby accessories and more for their new little ones. Past celebrities who have been have been gifted Victoria Beckham, Mario Lopez, Natalie Portman, Tori Spelling, Emily Proctor, Christina Applegate, Pink, Selma Blair and more.
Celebrities who received Backstage Bags March Baby Basket include Robert Downey Jr, Ben Affleck and Jennifer Garner, Beyonce, Bruce Willis, Hillary Duff, Jessica Simpson, Jason Bateman, Bryce Dallas Howard, Curtis Stone and Lindsay Price, Rebecca Gayheart, Pierce Morgan and Rosalyn Sanchez. Products are also sent to select media. Pregnancy and Newborn will feature Backstage Bags March Baby Basket in their August 2012 issue.
Backstage Bags March Baby Basket is filled with the following products from sponsors lucky enough to get their products into celebrities hands:
phil & teds - The Promenade is phil&teds new premium urban stroller/buggy with reversible and convertible flat bed seat, inline adaptability and ultimate style
philandteds.com
MAXI-COSI - The Mico® Infant Car Seat makes it easy to move through your day, with a lightweight design making transferring from your car to either a Quinny® or Maxi-Cosi® stroller a breeze
maxi-cosi.com
Target - A collection of designer maternity wear and diaper bags by Liz Lange for Target
target.com
Hoppop - Easy to clean and fun to use, a bathtub with a safe and innovative design
hoppopbaby.com
Nailtiques - An innovator in nail care dedicated to the development and maintenance of healthy, natural nails
nailtiques.com
Little Froglet - Real clothes for real kids
littlefroglet.com
Sella - All natural skincare
sellaus.com
Nay et al/Baby Nay - Beautiful clothes for babies
nayetal.com
The Fresh Diet - Fresh, gourmet, delivered daily
thefreshdiet.com
g Diapers - Disposable, biodegradable, adorable eco-friendly diapers
gdiapers.com
Mamas and Papas - Great Britain's No.1 Baby Brand
mamasandpapas.com
the indiexhibit - A global group of independent artisans including:
Non-edible cupcakes gifts from KamNCo.com
Crocheted pixie hats from etsy.com/shop/babciasheart
Symbolic handcrafted jewelry from artfire.com/ext/shop/studio/parrotheadjewelry
Gift certificates for baby accessories from etsy.com/shop/girlybaby
theindiexhibit.org
My Baby Bling - Baby bling rhinestone baby and kids apparel
mybabybling.com
Dolphin Organics - Baby care products containing only the purest natural and certified organic ingredients
dolphinorganics.com
Murad - Transforming skincare
murad.com
Peekaboo beans - Playwear for kids on the grow
peekaboobeans.com
Leading Lady - Specializing in bras and lingerie for pregnant, breast-feeding, and post-mastectomy women
leadinglady.com
Coco Penny - Bows and accessories for little girls
cocopenny.com/the-shop
Sound Beginnings - A better, more comfortable way to play music & voice for your unborn baby-anytime, anywhere
sound-beginnings.com
To be considered for a future Backstage Bag Celebrity Baby Basket, please email amy(at)backstagebag(dot)com. Please also visit http://www.backstagebag.com.