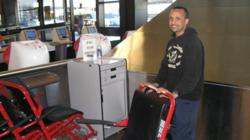 Our investment in Mesfin will produce an asset to his employer and a stronger economic future for his family.
(PRWEB) March 26, 2012
Tuesday, March 20 was a special day for 28-year-old Mesfin Yeshewawerk, and not just because it was the first day of Spring in Seattle. Mesfin was celebrating his completion of the Airport University computer skills class he took with 19 other logistics and transportation employees who work at Sea-Tac International Airport.
Mesfin was born in Addis Ababa, located in the center of Shewa state of Ethiopia. He moved to Seattle seeking work in 2010, and soon found himself employed at Sea-Tac Airport. To make ends meet, he works two jobs: as an aircraft cabin cleaner and as a wheel chair attendant, giving arriving and departing passengers a cheerful lift around the busy airport.
Mesfin found that the classes offered by Airport University were easy to attend, because they were offered at his workplace and during convenient times. Airport University, a program of Port Jobs, is a partnership with Highline Community College and South Seattle Community College, and is funded, in part, by the Port of Seattle. Airport University's classes are offered at no cost to income-eligible airport employees, and provide students with college credits as well as valuable workplace skills.
This isn't the first time Mesfin has reached an educational milestone. He first graduated from college in 2006 from the Harer Kombolcha A.T.V.E.T College in Ethiopia where he studied animal sciences. Mesfin's Airport University instructor, Mary Turla, says Mesfin is a strong example of the type of highly motivated individuals who attend Airport University to acquire the skills they need to make a better life for themselves and their families. Turla and Highline Community College instructor Susan Taylor were thrilled to see 20 students earn Business Technology credits this quarter.
"Mesfin is well on his way to reaching his goal of improving his computer and English language skills," says Turla. "I am excited to see Mesfin walk in the Highline Community College's commencement ceremony for their Business Technology certificates in June. He will end his Airport University coursework with 15 college credits under his belt – that represents a full quarter of transferable college credit! There's no doubt in my mind that our investment in him will produce an asset to his employer and a stronger economic future for his family."
Mesfin is leaving his future career options open. "I do want a different job in the future. Maybe with computers, maybe nursing or health. I am learning computer skills for the future ... I used to be scared of the computer. Before this class, the computer and I are strangers. First class, we say hi to each other. After next class, we are cousins. Now, computer and I are brothers!"
The next round of Airport University classes begins on April 3, 2012. Turla encourages Sea-Tac Airport employees to drop in during their lunch hour to find out more or call 206-787-7501 to sign up. Students may join classes as late as April 17.
Port Jobs readies workers for the Port of Seattle economy, including SeaTac Airport. Their mission is to make good jobs easier to get and good employees easier to find within the transportation, logistics and construction sectors. Since its creation in 1993, Port Jobs has served more than 78,400 community residents, helping fill more than 12,300 job openings with airport employers and in the skilled trades.