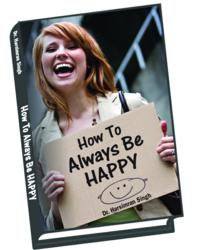 Don't Worry, Be Happy
Oyster Bay, NY (PRWEB) March 26, 2012
Learn how to be happy and wealthy from an immigrant who migrated to USA with a total of $8 and is now ranked #1 when searching " Rich Immigrants" on any search engine.
Releasing one's burden from anxiety and worry will free one's mind to think about the important things in life. At the very least, one will be able to think clearly without one's mind being consumed with worry. Often times, people get negative thoughts stuck in their heads and they become consumed with negativity. Just as people let anger, lust and other vices control them, individuals allow worry to dictate their lives. It's also important to surround oneself with positive people and resources. Just as others can negatively influence one's thoughts or make one feel bad about something, one can do the same to others when one casts one's worries into the world around one.
Rather than panicking and worrying about every negative possibility out there, think positively and analyze the reasons why one is anxious or worried. This will enable one to become aware of any reasons behind why one is worried. If one puts in the effort to make a positive change, it will be able to improve one's life in many ways. By identifying things that one may be uncertain of or worried about, one might be able to alleviate them. Learn to laugh at one self rather than worrying about silly things. By analyzing one's worries and doubts, one will be able to educate and make changes to avoid worrying in the future.
One doesn't want to miss out on being happy because one is simply misinformed. Educate oneself, instead of worrying. For example, if it is one's health one is worried about, or going to the doctor's office, one must realize that it's much more beneficial to explore the informed results rather than misguided possibilities in one's mind. Not doing this is counterproductive because worry can adversely affect one's health.
Remember that one can make good and bad things happen. Wouldn't every one rather have positive things happen and have good things come one's way? Like the saying goes, don't let life happen to one; make life happen. And this certainly, cannot be done if all one does is worry
Inspirational quotes are akin to a blazing fire. If fuel is not continually added, the fire gets extinguished. So keep on adding the fuel of positive thoughts.
Dr. Harsimran Singh is an author of 13 inspirational books including, "How 12 Immigrants Made Billions from Nothing." He credits his success to Search Engine Optimization, which helped him have his websites ranked at the top of search engine results. He wants others to be successful as well. He wrote the book, "SEO Secrets to BIG Money" (valued at $45.95) which can be downloaded for free by clicking SEO.