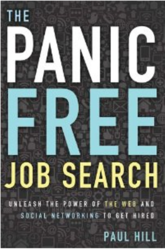 Marrying the capabilities of facebook and Vokle is engagement through social media at its best
Toronto, Canada (PRWEB) March 26, 2012
Herb Schaffner will be taking the hosting chair for a special "Book Talk Live" show and kicking off the launch of Paul Hill's book tour for 'The Panic Free Job Search: Unleash the Power of the Web and Social Networking to Get Hired', #1 best seller in job hunting and #51 best seller rank on Amazon in Canada.
"Live streaming the book tour launch in an interactive broadcast where a viewer from anywhere in the world can ask me questions and get answers right away is a perfect testament to what the book is all about- unleashing the power of the web and social networking. Marrying the capabilities of facebook and Vokle is engagement through social media at its best." said Paul Hill "I am really excited to be interviewed by Mr. Herb Schaffner who has such broad experience as an editor and book publisher with leading book publishing companies Simon & Schuster, Harper Collins, and McGraw-Hill. Mr. Schaffner has edited big time best sellers as well as co-authored leading reference works on labor and the workforce and it is an honor to have him as the host and my literary agent."
Join us for a great evening about how to handle the "New Job Search" and what it means for you and your career. This is also a one time only opportunity to find out how to get for FREE Paul Hill's, Be Irresistible: Get Found, Get Hired, a multi-media audio, video, and text based product that shows step-by-step, mouse-click by mouse-click, how to build a professional image and presence online, that attracts employers, a $197.00 product.
View The Panic Free Job Search book tour launch here on facebook http://on.fb.me/w3LRZr at 9:00 PM EDT on April 2nd 2012 or on Paul Hill's site at http://bit.ly/Afmbgu on the same date and time.
About The Panic Free Job Search: Unleash the Power of the Web and Social Networking to Get Hired:
The Panic Free Job Search will transform you. You will become self-confident, focused, and have the clarity to know what you want in your next job and most importantly what actions to take to get the next job that will advance your career.
You will have a clear step-by step job search plan, the tools you need to find and impress the right decision makers, the ability to deploy effective tactical interview techniques, the know-how to close the deal and get the job that is right for you.
Regardless of your employment status, The Panic Free Job Search will show you how to be proactive and take ownership of your career management. You will learn how to be a candidate and not an applicant and how to avoid being sucked in to playing the "click and send" your resume lottery game. Instead, you will exploit the new way employers find candidates through the web and social network sites and expand your career opportunities by attracting employers, recruiters, and other professionals to you so that you will never ever have to do a traditional job search again.
The Panic Free Job Search: Unleash the Power of the Web and Social Networking to Get Hired is published by Career Press, NJ and is available online and at book stores, Amazon, Barnes and Nobles, and Chapters-Indigo-Coles in Canada.
Herb Schaffner
Principal of Schaffner Media Partners. Visit http://www.schaffnermediapartners.com to find out more about services.
Paul Hill
Chief Instructor at Transition to Hired. Visit http://www.transitiontohired.com to find out more about services. Visit the book site http://www.PanicFreeJobSearch.com