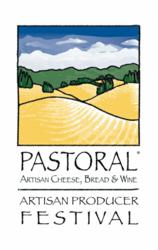 Chicago, IL (PRWEB) March 29, 2012
WHAT
Pastoral Artisan Cheese, Bread & Wine will host its second annual Pastoral's Artisan Producer Festival, a free event to meet culinary artisans from throughout the U.S. and around the globe, sample their products and celebrate small batch food, beer and wine on Saturday, April 28, 2012, from 11:00 a.m. – 3:00 p.m., at Chicago French Market, 131 North Clinton Street, in Chicago. Parking for only $6 will be available for all attendees at 165 North Clinton, the parking lot located just north of Chicago French Market.
This year's lineup features more than 70 culinary producers—more than double the number of artisans who participated at last year's event—with award-winning cheesemakers from across the country, including Kenny's Farmhouse Cheese in Kentucky, Cypress Grove Chevre in California and Marcoot Jersey Creamery from Illinois among at least 25 others. Venerable cheesemongers from Neal's Yard Dairy in London will also be on hand and sampling some of the best cheeses from the British Isles, while New York-based Forever Cheese will feature some of the Mediterranean's finest cheeses and other culinary delights from Italy, Spain, Portugal and Croatia.
Additionally, there will be a variety of national and international artisans who produce Pastoral's distinctive sweet and savory accompaniments. From beer and spirit makers in Chicago to a potato chip producer in Virginia to caviar and truffle oil artisans in Italy to vintners from Bordeaux, this year's festival is one of Chicago's most extensive events featuring culinary specialties from local, national and also international producers.
Scheduled events throughout the day will include a cheese wrapping contest sponsored by Formaticum, an avocado tasting for kids (and grown-ups) with The Good Food Project—sponsored by Avocados from Mexico—and Best of the Fest competition with food industry luminaries voting on their favorite featured artisans and products. Other activities will also be planned for attendees of all ages.
Pastoral created Pastoral's Artisan Producer Festival as part of the company's mission to make buying and eating great food and wine a fun, inviting and educational experience for its customers. Many of the products featured at Pastoral's Artisan Producer Festival are sold in the Midwest exclusively at Pastoral. The event will also highlight artisan producers featured at Pastoral's neighboring Chicago French Market vendors.
Chicago French Market is presenting sponsor of the second annual Pastoral's Artisan Producer Festival. Culture Magazine is national media sponsor, Edible Chicago is local media sponsor and the Wisconsin Milk Marketing Board (WMMB) is stage sponsor of the event.
WHEN
Saturday, April 28, 2012
11:00 a.m. – 3:00 p.m.
WHERE
Pastoral Artisan Cheese, Bread & Wine – Chicago French Market
131 North Clinton Street, Chicago, IL 60661
312-454-2200
pastoralartisan.com
FOR MORE INFORMATION, visit pastoralartisan.com or call 312-454-2200.
LIST OF PARTICIPATING ARTISANS TO DATE—NATIONAL AND INTERNATIONAL
CHEESEMAKERS
Beecher's Handmade Cheese (Washington)
Beehive Cheese Company (Utah)
Capriole Farmstead Goat Cheese (Indiana)
Cypress Grove Chevre (California)
Forever Cheese (Mediterranean)
Frisian Farms (Iowa)
Holland's Family Cheese (Wisconsin)
Cellars at Jasper Hill (Vermont)
Kenny's Farmhouse Cheese (Kentucky)
LaClare Family Farm (Wisconsin)
Marcoot Jersey Creamery (Illinois)
Milton Creamery (Iowa)
Neal's Yard Dairy (London)
Point Reyes Farmstead Cheese Company (California)
Prairie Fruits Farm and Creamery (Illinois)
Rogue Creamery (Oregon)
Sartori Cheese (Wisconsin)
Saxon Homestead Creamery (Wisconsin)
Seymour Dairy (Wisconsin)
Spring Brook Farm (Vermont)
Uplands Cheese Company (Wisconsin)
Vermont Butter and Cheese Creamery (Vermont)
Wisconsin Sheep Dairy Co-Op (Wisconsin)
Zingerman's Creamery (Michigan)
BREWERIES
5 Rabbit (Illinois)
Finch's Beer (Illinois)
Founders Brewing Company (Michigan)
Goose Island (Illinois)
Half Acre Beer Company (Illinois)
Brouwerij Liefmans (Belgium)
New Holland Brewing Company (Michigan)
North Coast Brewing Company (California)
Brewery Ommegang (New York)
Uinta Brewing Company (Utah)
VINEYARDS
Acustic Winery (Spain)
Adelsheim Vineyard (Oregon)
Barrelhead Winery (California)
Chateau de Tiregand (France)
Elk Cove Vineyards (Oregon)
Graziano Family Wines (California)
Julian Cider (California)
L. Mawby Vineyards (Michigan)
Laurel Glen Vineyards (California)
Marques Vargas Vineyards (Spain)
Monticello Vineyards (California)
Orin Swift Cellars (California)
Pazo San Mauro (Spain)
SPIRITS
Death's Door Spirits (Wisconsin)
Few Spirits (Illinois)
Koval Distillery (Illinois)
Valentine Vodka (Michigan)
CONFECTIONS
Confection Diva (Illinois)
DAS Foods (Illinois)
Happy Goat Caramels (California)
Rich Chocolates & Candies (Illinois)
Salted Caramel (Illinois)
Truffle Truffle (Illinois)
Whimsical Candy (Illinois)
GOURMET FOODS
34 Degrees Crispbreads (Colorado)
Ameline Mustards (France)
Ames Farm (Minnesota)
Avocados from Mexico in partnership with The Good Food Project
Calvisius Caviar (Italy)
Castleton Crackers (Vermont)
Cook au Vin (Illinois)
The Gracious Gourmet (Connecticut)
Mieli Thun (Italy)
Potter's Crackers (Wisconsin)
Quince & Apple (Wisconsin)
Route 11 Potato Chips (Virginia)
Savini Tartufi (Italy)
Sour Puss Pickles (New York)
Stu's Sour Pickles (Illinois)
CHARCUTERIE
Creminelli Fine Meats (Utah)
PARTICIPATING CHICAGO FRENCH MARKET VENDORS
Abbey Brown Soap Artisans, Canady Le Chocolatier, City Fresh Market, Delightful Pastries, EJ Sushi, Espression by Lavazza, FliP Crepes, Frietkoten, Fumare Meats & Deli, Klay Oven Kitchen, Loop Juice, Pastoral, Presto Café & Grill, RAW, Saigon Sisters, Spicy Monkey Soup Company, Superior Nut & Candy, Vanille Patisserie and WISMA.
PASTORAL LOCATIONS AND HOURS
Pastoral Artisan Cheese, Bread & Wine – Chicago French Market
131 North Clinton Street
Chicago, Illinois 60661
312-454-2200
Hours:
Monday – Friday 10:00 a.m. - 7:30 p.m.
Saturday 10:00 a.m. - 5:30 p.m.
Sunday Closed
Pastoral Artisan Cheese, Bread & Wine – Loop
53 East Lake Street
Chicago, Illinois 60601
312-658-1250
Hours:
Monday – Friday 10:30 a.m. - 8:00 p.m.
Saturday and Sunday 11:00 a.m. - 6:00 p.m.
Pastoral Artisan Cheese, Bread & Wine – Lakeview
2945 North Broadway
Chicago, Illinois 60657
773-472-4781
Hours:
Monday – Friday 11:00 a.m. - 8:00 p.m.
Saturday 11:00 a.m. - 7:00 p.m.
Sunday 11:00 a.m. - 6:00 p.m.
Shop 24/7, 365 days per year at Pastoral's online store: pastoralartisan.com
ABOUT PASTORAL ARTISAN CHEESE, BREAD & WINE
Pastoral, a venture of Pastoral Enterprises, LLC, is a European-inspired, authentic neighborhood cheese shop, offering the highest quality fine and artisan cheeses from America and around the world, select small production wines and freshly baked breads along with a full complement of related items such as charcuterie, olives and other accompaniments. Pastoral also offers custom gift collections, gourmet sandwiches and salads, picnics and catering. The company was founded in 2004 in the East Lakeview area of Chicago and was named in 2007 as one of six Outstanding Specialty Food Retailers by the National Association for the Specialty Food Trade (NASFT). For more information or to shop online, visit pastoralartisan.com