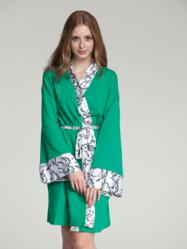 Los Angeles, CA (PRWEB) March 27, 2012
Doie Lounge, a Los Angeles based line of eco friendly, locally made, luxurious robes, has finally restocked their best selling "Trixie" robe. After being shown as a "celebrity must have" in the Us Weekly Magazine online December 2011 gift guide, as well as in their December 5th, 2011 "Buzz-o-meter," the demand for this robe far exceeded the supply. The robe sold out within two weeks and his been unavailable for purchase until now.
"We didn't know that the robe was going to be featured until a week before it went to print," said Doie Lounge owner and designer, Sara Kirsner. "Our prints are exclusive prints and we couldn't just go out and buy more fabric. It has to be re-printed and we didn't have time to make more before the story ran."
Kirsner was planning on retiring that robe after it sold out, but in the months that followed the article, the demand for that particular combination continued to increase and Doie Lounge decided to do another production run. The robes are also immensely popular with Brides, as the ultimate bridesmaid gift, and the green colored "Trixie" robe is a popular choice for Spring and Summer weddings, so it made sense to produce more.
The "Trixie" robe, as well as several other color combinations, are now available for purchase at http://www.doielounge.com. These robes are locally made in Los Angeles, CA and sold nationwide on the Doie Lounge website.