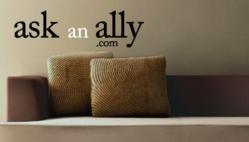 As people age, the entire family goes through a transition.
Denver, CO (PRWEB) March 27, 2012
AskAnAlly.com, the provider of free online advice from a psychologist, now offers advice and resources for those dealing with the aging process, either themselves or through loved ones.
"As people age, the entire family goes through a transition. Issues like independence versus safety must be weighed. It must be determined when forgetfulness is something more. Difficult end of life issues need to be discussed," said Dr. Jane Ginsberg, PsyD and President of AskAnAlly.com. "The opinions of all family members involved need to be taken into account, and all of these things must be dealt with while maintaining the dignity of the elderly person. It can be a time of growth and bonding or it can be a time of conflict and contention. It is stressful and families often need help."
Dr. Ginsberg has been facilitating workshops at elder care facilities in the Denver area. This has provided valuable insight into the struggles that come with aging. "I think people would be surprised to learn that the ways we deal with issues we face as elders is based in the lives we led in our childhood, teens, and so forth," said Dr. Ginsberg. "Amid all the physical challenges, we carry many of the worries and insecurities of our youth with us into this monumental stage of life."
Aging - or watching loved ones age - will affect everyone eventually, and AskAnAlly.com's Elder Care resources page offers help for every aspect of this challenging time.
Equally important, Dr. Ginsberg answers questions from visitors, offering them unique advice and perspective on their personal situation. She also speaks to the emotional challenges of aging in the AskAnAlly blog.
AskAnAlly.com is the source for free and confidential advice from a psychologist online. Offering valuable resources and tools to soothe the soul, visitors can listen to music, make art, play games and ask questions, which are answered directly by Dr. Ginsberg.
Jane Ginsberg is a psychologist and the founder and creator of AskAnAlly.com. She has been helping people reach their full potential for over 28 years. She currently divides her time between Denver, Colorado, and Cape Cod, Massachusetts, with her daughter, Hannah and their dog, Chester.