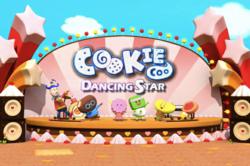 One excellent educational game that can teach children several important developmental skills," raves mommysmemorandum.com
Seoul, South Korea (PRWEB) March 26, 2012
ThinkCube's recent launch, CookieCoo Dancing Star, has already put smiles on the faces of parents seeking educational apps that truly entertain their kids. Now, CookieCoo Dancing Star aims to please fans even more, by offering the fun and friendly music game for free—but only for a limited time!
CookieCoo Dancing Star lets kids play along with their favorite traditional children's songs, like "Hokey Pokey," while watching a whimsical 3D cookie character dance and sing with the music. CookieCoo Dancing Star is a perfect combination of fun and learning—it's a game parents can feel good about letting their kids play, because they'll be learning and practicing important concepts while they enjoy themselves. With each of the game's numerous song packs focused on a particular theme, parents can guide their kids to choose the most helpful songs.
And since CookieCoo Dancing Star has an interface that's friendly to small fingers, kids will master getting the game started in no time. Clear visual cues help them to navigate the menu effortlessly. Watch, Easy, Medium, and Hard difficulty levels to choose from make it so that even very young children can benefit from CookieCoo Dancing Star.
CookieCoo Dancing Star reviews highlight the edutainment app's quality and appeal. "The songs teach kids some valuable tips and they also get to improve their motor skills," 148apps.com states. "One excellent educational game that can teach children several important developmental skills," raves mommysmemorandum.com. "New learning tool that can help you boost your child's ability to use their senses but doesn't bore them in the process," says mommykatie.com.
While CookieCoo Dancing Star is typically very affordable, at only $0.99, right now parents can download the game at absolutely no cost! CookieCoo Dancing Star is available now in the iTunes App Store, for free—get it while it's on sale!
Features:

Child-friendly interface
Watch mode for those who aren't ready to play along yet
Easy, Medium, and Hard difficulty levels
Friendly, positive feedback - no frustration
Children choose from three different "instruments" to play each time they start a song
Children can pick their favorite CookieCoo dancing star to dance and sing while they play, each time - five to choose from
iPhone App Store: http://itunes.apple.com/us/app/cookiecoo-dancing-star/id489072048?mt=8
iPad App Store: http://itunes.apple.com/us/app/cookiecoo-dancingstar-hd/id495611023?mt=8