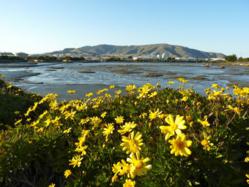 "Walking the Bay Trail offers unique views, for locals and visitors alike," -- Corinne C. DeBra
Palo Alto, CA (PRWEB) March 27, 2012
Corinne C. DeBra figures she took close to 30,000 photographs during her 1,000 mile walk around San Francisco Bay, from 2009 - late 2011. Photos from Corinne DeBra's 1,000 mile walk, and prints that offer unique vantage points of the Bay from local artist Linda Gass and photographer Bill Scull, will be on display at the Canessa Gallery in San Francisco, CA, during the month of April 2012.
"Walking the Bay Trail (in segments), getting exercise, discovering wonderful and diverse views of the Bay, in different seasons, as well as places to stop to eat and drink so close to home, were some of the many great things about this walk," according to DeBra.
"Enjoying the many scenic parks and wildlife, seeing pre-Silicon Valley industries, and learning about history were very interesting. I tried to capture views that people might be interested in experiencing or preserving. There are walks for all abilities and interests along the San Francisco Bay Trail (http://www.baytrail.org) -- a trail that circles the Bay, from San Jose in the South, to Napa in the North.
Another clear benefit: so many great Bay Area chocolate makers, like Dandelion Chocolate, Scharffen Berger, Recchiuti and TCHO, to name a few.
Chocolates from companies mentioned above will be served on opening night. There will also be sea salt caramels from Kika's Treats (made from S.F. Bay salt), and chocolate tiles from Poco Dolce, until they're gone.
Where:
Canessa Gallery
708 Montgomery St. (at Washington)
San Francisco, CA 94111
What and When/ Events/Talks:
Opening night reception, Friday, April 6, 2012, from 5-10 p.m.
(Note: This is also part of First Friday art night in North Beach)
Walking the Bay, 1,000 mile walk - talk on Saturday, April 7, 2012, starting at 7 p.m.
Two other evening events: "3 Trails" (Bay Trail, Bay Ridge Trail and a planned water trail); and a "9 County Park" discussion, will also take place later in the month. The latter will be by invite only.
Canessa Gallery hours:
Outside the opening night, and talks/event dates, hours are Wed. 12-3, or by appointment.
The Canessa Gallery is an historic building that survived the 1906 earthquake in SF. From street level, take the stairs up to gallery level. For more on Canessa: http://www.canessa.org
More info on the 1,000 mile walk, or the "Walking the Bay" exhibit can be found at http://www.walking-the-bay.com
More information on Linda Gass's water-themed art can be found at http://www.lindagass.com; Information on Bill Scull's S.F. Bay "Salt Works" series can be found at http://www.pbase.com/scull/gs_blimp