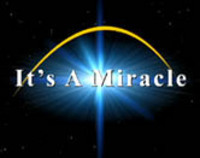 This is a day of stillness and of peace
Wisconsin Dells, WI (PRWEB) March 26, 2012
A Course In Miracles International today re-released online for free viewing and or download, a video presentation by the Master Teacher, entitled, "The Healing Power Of Prayer". The video which comprises healing Prayer Lessons from the Workbook of A Course In Miracles, presented by Master Teacher, was first released for International Forgiveness Week nearly eleven years ago in June 2001, and will again be shown as part of the "Cosmic Reconcilliation" program during the celebration of International Forgiveness Week and Weekend of Perfect Peace on September 14 -23, 2012. The presentation is widely experienced as having a deeply transformative and healing effect on the mind.
As the Master Teacher says in the video, "I'm offering you an image of the certainty of the reflection that I have gained through the Christ Mind; very simply through the mind of Jesus who constantly reminds me that if I don't forgive our relationships together, I will and must get a false reflection of myself. So, the reflection of you that I am offering you through his mind will heal you and is healing you and has healed you. And you have come into this association of time, recognized yourself in an instant and have departed this space time. That's a true thing."
Film Editor, John Gaffney, explained the reason for releasing the video online: "This video provides the solution to the seemingly incessant strife that plagues the human mind; and is an invaluable offering at this time. The Master has carefully selected from the Course, specific prayers that heal. Here is a special one for International Day of Peace and the event known as "Cosmic Reconciliation":
"This is a day of stillness and of peace.
Christ's vision looks through me today. His sight shows me all things forgiven and at peace, and offers this same vision to the world. And I accept this vision in its name, both for myself and for the world as well. What loveliness we look upon today! What holiness we see surrounding us! And it is given us to recognize it is a holiness in which we share; it is the Holiness of God Himself.
This day my mind is quiet, to receive the Thoughts You offer me. And I accept what comes from You, instead of from myself. I do not know the way to You. But You are wholly certain. Father, guide Your Son along the quiet path that leads to You. Let my forgiveness be complete, and let the memory of You return to me."
The video, "The Healing Power Of Prayer" can be viewed or downloaded at http://www.forgivenessweek.org/downloads.php
###