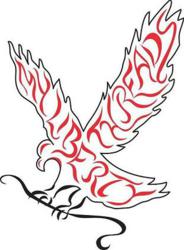 We're out to prove that you can still find cool, AMERICAN made clothing that you'll love to be seen in.
Minneola, Florida (PRWEB) March 27, 2012
My Liberty Threads (MLT), your source for bold, liberty-themed, American-made t-shirts, is excited to announce its newest goal: to open a U.S.-based clothing plant within the next three years. That's right, they've done the research, and to make it happen they need to produce 15–20 thousand t-shirts a month. To reach this level of monthly t-shirt sales, they will need to first accomplish some lofty goals.
Scott Miller, founder of MLT, said: "For those of you who have been following My Liberty Threads, you already know that we tore up the festival scene last year and ended 2011 with a great six-week run at the Lakeland Square Mall in Central Florida. In order to get the exposure we need to reach the 15–20 thousand shirts per month goal, we are setting an extremely aggressive 2012 summer calendar. Our strategy will have us traveling thousands of miles on the Midwest USA festival scene. We are planning on hiring five to eight individuals and then displaying our collection in front of more than two million festival and fair goers between Memorial Day and Labor Day."
Plans are underway to set up at as many as five different festivals, fairs, and concerts, etc., across the U.S. at the same time. To achieve this, MLT needs to purchase:

One used moving truck (American made)
Five festival setups (20 x 20 canopy, tables, mannequins, etc.)
Build their inventory of American made t shirts.
The startup cost is estimated to be $20,000. In order to raise this capital, MLT is offering supporters the opportunity to advertise their passion and support for buying American. Their first stop will be at the Hillsville Memorial Day Festival in Hillsville, Va. on May 24th.
MLT is selling squares on the tour truck for $10 each (with larger squares available for businesses and organizations). Each block will be 6 inches by 6 inches. Supporters will have the opportunity to have their name displayed on the side of the truck aptly named the BRINGINGJOBSBACKMOBILE. It will be a great way for those interested to show their support for manufacturing in the USA and My Liberty Threads' efforts to put Americans back to work.
The funds raised from advertising will be used to put Americans back to work both short-term and for years to come. Here's how:
First, by setting up all over the Midwest, MLT will need to hire people to man its booths.
Secondly, when MLT reaches its goal to open and run its own factory, the company will be employing dozens of people for years to come.
Lastly, MLT's message of "Buying American" is universally understood as one of the quickest ways to get our economy turned around. As people see the rise of the My Liberty Threads brand, they will be inspired to do their part to support other American-made businesses.
If you want to advertise on the MLT "Made-in-America" tour truck or check out the company's cutting-edge, American made t-shirt assortment, please visit mylibertythreads.com.
Thanks so much for your continued support, and remember:
BUY AMERICAN!
About My Liberty Threads
Based in Central Florida, My Liberty Threads partners with American manufacturers to produce liberty-themed t-shirts that "Just Feel Better." For more information, visit http://www.mylibertythreads.com.
Contact:
Scott Miller
407-729-9821