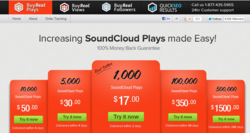 Prices begin at $17 for 1,000 SoundCloud Plays
Ottawa, ON (PRWEB) March 27, 2012
Buy Real Marketing is a premier world provider of social media shares, web traffic and other web properties. The company has been in operation since 2010 and is known to provide its clients with high quality services. Today, as part of their expansion, they will be now offering to the public the niche service of SoundCloud Plays.
Sound Cloud is a new and exciting online music distribution platform that allows people to create original sounds and make them come to life in a waveform player. The platform allows aspiring artists and music enthusiasts the chance to showcase their talent on the web and as well as other social networks available. Currently, Sound Cloud shares are fast becoming the next hot web commodity to gain credibility and exposure in the eyes of the public in the music industry.
Due to the rising demand, Buy Real Marketing proudly announces their latest offering of SoundCloud Plays, Favorites and Downloads for the public. In order to launch a successful online music career in the industry, the entrance of Plays, Favorites and Downloads can tremendously help widen the reach of a track to millions of people on the web.
Buy Real Marketing's process in attaining more plays for SoundCloud tracks is through the use of high quality web traffic. Having a large number of SoundCloud Plays indicates the wide reach of the track, which instantly correlates to the quality and popularity of a single track. Another web share that mustn't be overlooked is the SoundCloud Favorite; having people who dub a track as their Favorite indicates the possibility of the conversion of Facebook Fans and Likes to other social networks.
Last but not the least is the SoundCloud Downloads, which implicate the number of people who have downloaded the track. Having a large number of downloads imply that the track is worth listening and keeping which will only further emphasize the quality of a certain track.
Prices begin at $17 for 1,000 Plays, $30 for 5,000 Plays and $50 for 10,000 plays. To know more about Buy Real Plays and its services, visit their website at http://www.buyrealplays.com.
About
Buy Real Plays is wholly owned by Buy Real Marketing, Inc. The company is a well established internet marketing company founded in 2010 by Jean-Patrick Bisson, Diana Quartin and Jonathan Kennedy. The company specializes in driving search marketing and social media traffic, social web app development and conversion optimization. Each product or service specifically helps small/medium website owners increase online visibility and improve online sales.
###