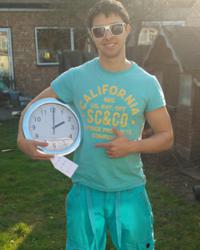 It's only been about two weeks and I've almost sold two hours, so it looks like time is on my side!
London (PRWEB UK) 28 March 2012
With UK youth unemployment is at a 23-year high (http://www.bbc.co.uk/news/business-15747103), Jason believes that students should think out-of-the-box to try and beat the current economic climate.
His website, http://www.minutesforsale.com aims to sell every moment of time as advertising, one minute at a time.
In just over a week, he has managed to sell almost two hour's worth of minutes, with companies as far away as Spain, America and Australia having purchased time on his site.
Once purchased, their own websites will be displayed on his homepage at the time purchased, every single day thereafter. One happy customer even claims to have tripled his traffic since purchasing a minute, as testified on the homepage.
Prices started at a one-off payment of just £10 a minute but rose to £20 a minute within a few days. The next few days could see the price rise to £30 as prices continue to rise with every hour sold.
Once every minute has been sold, minute owners even have the option to re-sell their minute if they wish, at the price the last hour sold for, making them a profit on the price they initially purchased it for.
There is also a timetable showing every minute available, and those already purchased. Those minutes already purchased will link to the customer's homepage as well as displaying an image or logo of their choice. Some companies have even taken to spelling out their company name in an attempt to draw more attention to their links.
It is unique and never been tried before, but Jason Ting, 20, feels that this will be the reason for its success.