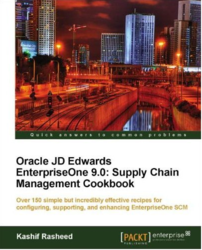 Master all that the EnterpriseOne SCM modules have to offer with this book and e-book
Birmingham, United Kingdom (PRWEB) March 28, 2012
Packt is pleased to announce the publication of Oracle's JD Edwards Enterprise One Supply Chain Management Cookbook. Written by Kashif Rasheed, this business-ready cookbook provides readers with all the instructions they need to set up the SCM application, and utilize it based on their company's individual business requirements.
This book begins by demonstrating how to review inventory quantity information and perform physical inventory through cycle and tag count, and later describes how to configure the interactive application as well as set up the batch versions. This comprehensive guide will teach readers to tackle a number of options for efficiently setting up special orders, such as requisition and blanket orders.
Through step by step instructions on Inventory Management, Procurement Management and Sales Order Management it enables developers to run End of Day processes. The developers will get to grips with table structures and be able to prepare the table schema mapping document for data migration and also master the basics like order approvals, invoicing, and updating price information.
The chapters emphasized in the book are;
1 Inventory Management
2 Inventory Transactions and reviewing item quantity and Physical Inventories
3 Updating Costs, using kits & Lot Processing
4 Understanding and setting up Procurement
5 Understanding Pricing in Procurement and purchase orders
6 Receipt processing
7 Creating Vouchers & Landed Cost
8 Processing Special Orders and Approvals
9 Sales Order Management and additional orders
10 Holding, Releasing, and Reviewing
11 Orders Processing, Prepayments and Invoicing
12 Updating Prices, End of Day Processes, Sales Return
13 SCM Customization
Packt Publishing has also released and is due to publish other Oracle books and e-books:
Oracle JDeveloper 11gR2 Cookbook (Published)
Oracle 11g R1/R2 Real Application Clusters Essentials (Published)
Oracle Business Intelligence Enterprise Edition 11g: A Hands-On Tutorial (Due)
All Oracle books and e-books are Published by Packt Enterprise. Packt Enterprise is a publishing division of Packt Publishing designed to serve the information needs of IT Professionals in the Enterprise space. Packt Enterprise also publishes on Microsoft, IBM, Oracle, Citrix, Java, Amazon, Google and SAP technologies.