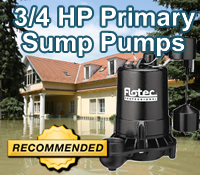 With a 4000+ GPH rating, these sump pumps can keep up with even the biggest rain falls
Bolingbrook, IL (PRWEB) March 26, 2012
Today SumpPumpsDirect.com released its recommendations for the best 3/4 HP primary sump pumps.
"3/4 HP sump pumps offer a lot of pumping power to keep water out of your basement," said Jim Owiecki, resident product expert at Sump Pumps Direct. "With a 4000+ GPH rating, these sump pumps can keep up with even the biggest rain falls."
Top 3/4 HP Primary Sump Pumps
Good: Wayne CDU980E - 3/4 HP Stainless Steel Cast Iron Submersible Sump Pump w/ Vertical Float Switch
Better: Flotec E75VLT - 3/4 HP Cast Iron Sump Pump w/ Vertical Float Switch - 5975
Best: StormPro 3/4 HP Cast Iron Stainless Steel Sump Pump w/ Adjustable Vertical Float - BA-75M
Most retailers are loyal to whatever is on their shelves said Owiecki.
SumpPumpsDirect.com, however, isn't your ordinary retailer. The online superstore specializes exclusively in sump pumps and carries more than 140 sump pump models, including 3/4 HP primary sump pumps from many of the nation's top leading brands.
The online retailer combined recent sales history, customer reviews and personal insight to generate its final recommendations.
Once the dust and data settled, only three 3/4 HP primary sump pumps sold by SumpPumpsDirect.com were given its prestigious "Recommended" status.
In addition, the expert staff personally wrote online reviews for each primary sump pump, explaining why the company recommended it.
By providing the recommendations and reviews, SumpPumpsDirect.com hopes to arm shoppers with enough ammunition to pick the perfect 3/4 HP primary sump pump for their needs.
Power Equipment Direct operates 10 niche online superstores. In addition to SumpPumpsDirect.com, the Bolingbrook, IL-based company operates AirCompressorsDirect, ChainSawsDirect, ElectricGeneratorsDirect, LogSplittersDirect, MowersDirect, PressureWashersDirect, SnowBlowersDirect, TillersDirect and WaterPumpsDirect.