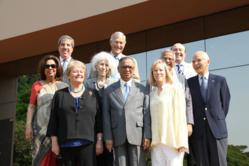 Bangalore, India (PRWEB) March 26, 2012
As India marks major milestones in efforts to eradicate polio and improve energy access, the United Nations Foundation Board of Directors meets in Bangalore and New Delhi this week to see first-hand how partnerships and innovation are powering a more sustainable future for India and the world. Presiding at the meeting are Foundation Founder and Chairman Ted Turner, Foundation President Timothy E. Wirth, and N.R. Narayana Murthy, Co-Founder and Chairman Emeritus of Infosys Limited, who is serving as host of the March 26-30 sessions. As part of a wide-ranging itinerary, the Board will meet with government, business and civil society leaders to share strategies for developing public-private partnerships that leverage advances in technology to support UN efforts to bolster global sustainability.
Earlier this month, India celebrated a major milestone – a full year without a single new case of polio – and was removed from the World Health Organization's list of polio endemic countries. Building on this successful model, India and its partners are committed to reducing deaths from other diseases, including measles.
"India has proven that partnerships with the UN are working; being removed from the polio endemic list is just the beginning," said Turner. "India's success in the fight against polio proves that cooperation works. It is an example of how a rapidly transforming India can lead the world into a healthier, more prosperous, and more environmentally sustainable century."
"India's success can be attributed to its culture of innovation," said Murthy. "India is an example of how global problems can be solved through strategic and innovative partnerships that work with the UN to create new, bold solutions that leverage technology. Sustainability, growth, and equality are key to India's continued progress, and committed partners such as the UN Foundation will help India advance these important goals."
Since 1998, the UN Foundation has developed public-private partnerships to support UN projects in India. In addition to championing the eradication of polio and reducing measles deaths, the UN Foundation is working with its global partners to improve women's and children's health, promote technology innovation to improve health services, stimulate a market for clean cookstoves, and create a new energy future. These efforts are carried out in close cooperation with the Indian government, UN agencies, and leading Indian business and nongovernmental organizations.
"India is a place where challenges and solutions live in close proximity. Indians are approaching the challenges they face as a society with urgency and a commitment to sustainability -- and the world should follow this example," said Wirth. "From women's access to reproductive health to sustainable energy solutions to delivering lifesaving vaccines to children, India is proof positive that smart, sustainable solutions are at the top of the agenda for economic growth."
The members of the Foundation's Board of Directors represent 12 countries. Members are:

R.E. "Ted" Turner (U.S.A.), Chairman and Founder, UN Foundation, Turner Enterprises
Timothy E. Wirth (U.S.A.), President, UN Foundation and Better World Fund and former U.S. Senator
Her Majesty Queen Rania Al Abdullah (Jordan), Chairperson of the Jordan River Foundation
Kofi Annan (Ghana), former UN Secretary-General and UN Special Envoy for Syria
Fábio Colletti Barbosa (Brazil), CEO of the Abril Group
Gro Harlem Brundtland (Norway), Director-General Emeritus, World Health Organization and former Prime Minister of Norway
Igor Ivanov (Russia), Former Minister of Foreign Affairs of the Russian Federation
N.R. Narayana Murthy (India), Chairman Emeritus of Infosys Limited
Hisashi Owada (Japan), President of the International Court of Justice
Emma Rothschild (United Kingdom), Jeremy and Jane Knowles Professor of History, Harvard University and Director, Joint Center for History and Economics, Harvard University
Nafis Sadik (Pakistan), Special Advisor to the UN Secretary-General
Andrew Young (U.S.A.), Chairman of Good Works International and former U.S. Ambassador to the UN
Yuan Ming (China), Director, Institute of International Relations at Peking University
Muhammad Yunus (Bangladesh), Founder of the Grameen Bank
Background: UN Foundation cooperation with India
As a founding member of the United Nations, India has traditionally played an active role in the work of the UN worldwide. India has been elected seven times to the UN Security Council, regularly deploys troops to UN peacekeeping missions, and is one of the main contributors to the UN's regular budget. Furthermore, India is set to meet the UN's 2015 poverty reduction goal by the target date.
Since its founding the UN Foundation has worked closely with India to address some of the world's most pressing global problems. Examples of UN Foundation cooperation with India include:
About The United Nations Foundation
The United Nations Foundation builds public-private partnerships to address the world's most pressing problems, and broadens support for the United Nations through advocacy and public outreach. Through innovative campaigns and initiatives, the Foundation connects people, ideas and resources to help the UN solve global problems. The Foundation was created in 1998 as a U.S. public charity by entrepreneur and philanthropist Ted Turner and now is supported by global corporations, foundations, governments, and individuals. For more information, visit http://www.unfoundation.org.