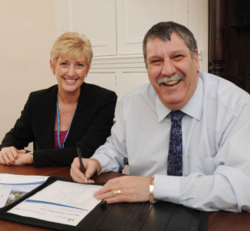 Birmingham (PRWEB UK) 27 March 2012
Birmingham Community Healthcare NHS Trust (BCHC) is now in full swing recruiting public members from across Birmingham and the wider West Midlands region.
The Trust's membership will have a significant influence over the way many of the healthcare services delivered in people's homes, health centres, clinics and inpatient sites are developed to respond to the needs of local communities.
Prof Chinn said: "Our family has always believed in the principles of the NHS and values the dedicated and caring professionals who work so hard to help individuals, families and communities.
"Over the last two years, Birmingham Community Healthcare has provided my mom and other members of our family with the very best healthcare. I've been very impressed with the professionalism, commitment and compassion of all the people who have been involved with us.
"I know that the Trust's aim is to keep on raising the quality of care and increasing the range of health services available to people closer to their own homes.
"I was proud to become the first official member of Birmingham Community Healthcare because its values match those of myself and my family.
"I would urge everybody with an interest in the future of local health services in our city to join me and become a member of Birmingham Community Healthcare. These are essential services for our families today and for our children and grandchildren in the future and we should all take hold of this opportunity to have our say."
BCHC chief executive Tracy Taylor said: "I am very pleased to welcome Carl Chinn as our first public member, and am especially pleased that our staff have been able to help his family through the past couple of years.
"I'm sure that all of the services we offer can benefit from a strong membership, which means including service users, their carers, friends and family, and affording them the opportunity to influence the way our services are delivered."
In addition to recruiting thousands of members, BCHC will hold elections for a newly constituted board of governors as part of plans to become an NHS Foundation Trust by the end of 2012.
To become a member, please log on to http://www.bhamcommunity.nhs.uk/membership and complete the simple form.