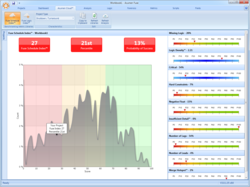 Acumen Cloud™ will arm project managers with the information they need to execute industry-leading projects, in turn raising the bar for industry planning quality.
Austin, TX (PRWEB) March 27, 2012
As the established project analytics market leader, Acumen (http://www.projectacumen.com) is excited to announce a major upgrade to advanced project management analytics platform Fuse: the launch of new-to market Acumen Cloud™. With the introduction of Acumen Cloud™, users are able to objectively score a project schedule using the Fuse Schedule Index™ and submit scores to the Cloud for benchmarking and percent likelihood of on-time, on-budget completion.
The Acumen Fuse® platform uses libraries of metrics to offer an advanced schedule analysis as well as an assessment of cost forecast accuracy, risk model realism, earned value and project performance. The Fuse Schedule Index™ compiles nine of those key metrics, along with their proven thresholds, to gain an overall picture of schedule quality.
"Acumen Cloud™ not only uses the Fuse Schedule Index to show the user how their schedule measures up with other similar projects in the cloud, it also forecasts their chances of success, an unprecedented benchmarking capability that gives project teams true insight into the quality of their schedule," said Acumen CEO, Dr. Dan Patterson.
Drawing on the robust user base of Fuse, Acumen Cloud's project database already hosts thousands of projects, and is growing at a fast pace. The Cloud is about more than increasing functionality in Fuse; it is taking the next steps to keep the project management community on the cutting edge.
"The natural next step for Acumen is to communitize project analytics," said Dr. Patterson. "Acumen Cloud™ will arm project managers with the information they need to execute industry-leading projects, in turn raising the bar for industry planning quality."
Other 3.1 Features
The release of Fuse 3.1 also includes more targeted schedule flaw fix; calendar forensic analysis; an update to DCMA 14-Point Assessment metrics and UN/CEFACT integration; and, advanced benchmarking capabilities
The newly improved Schedule Cleanser™ now allows users to review and correct individual schedule flaws to create a clean version of the schedule easily published to Primavera or Microsoft® Project.
The forensic analyzer now identifies calendar changes. Find added or removed shifts and exceptions, or pinpoint activities that have changed calendars. Even identify changes to calendar definitions.
Fuse 3.1 includes minor revisions to the DCMA 14-Point Assessment metrics to ensure compliance with the evolving DCMA guidelines. Also in close partnership with DCMA, Fuse has strengthened its integration with the UN/CEFACT schedule network schema ensuring that users will continue to deliver the unique, in-depth analysis expected from Fuse regardless of data source.
Fuse 3.1 integrates with Oracle Primavera P6, Microsoft Project, Oracle Primavera Risk Analysis, Deltek Open Plan, Asta Powerproject, UN/CEFACT, Phoenix and Excel. A free trial of Fuse 3.1 is available on the Acumen website listed below.
Acumen was born from the acknowledged need for improved project performance, insight, and vision, through analytics with respect to both timeline and bottom line. As a project management solutions company, Acumen is the indisputable best at providing insight into project challenges and using analytics to effectively overcome them, as well as aligning successful performance with corporate vision.