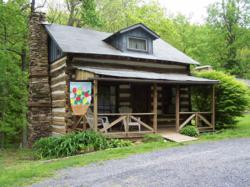 We typically think that a vacation has to be far away, but it is easy to escape the routines of life without spending lots of money on gas
Waynesboro, VA (PRWEB) March 30, 2012
Gas prices continue to rise across the nation. BusinessWeek.com reports that the average price of a gallon of regular gasoline is $3.93 as of March 23, a full 36 cents higher than last year this time. OilPrice.com states in a March 25th article that some analysts predict gas prices to reach $5 per gallon or even more by summer.
With the rising cost of gas, many consumers will re-think their summer vacation plans. Cabin Creekwood offers these suggestions for consumers to get the most for their vacation dollars.
Bring back the staycation. The term staycation became popular during the financial difficulties of 2007, and simply means staying at home for vacation instead of traveling. Staycationers (is that a word?) typically look for things to see and do close to home, and spend their money on activities instead of lodging and the gas to travel significant distances. This can be a fun time for everyone, as the family can explore some of those close-to-home activities that they never seem to have time for. However, the dangers in choosing a staycation are many. Perhaps the most significant danger is that of remaining very accessible. It is too easy at home to continue checking email and answering the phone, despite the desire to disconnect and spend time with the family. The answer? Turn them off! Other dangers include spending lots of time in front of the TV, or seeing those household chores and projects and feeling compelled to work on them.
An attractive alternative to the staycation is the nearcation. This term simply means staying close to home instead of staying at home. The nearcation will incur costs of lodging, but will not have the significant expense of gasoline that longer trips will have. The great benefit of this type of vacation is that the risks of a staycation are removed. Getting out of the house, away from familiar surroundings and daily habits will increase the likelihood of being able to truly relax. And one doesn't need to go far in order to feel very removed. As Stan Horst from Cabin Creekwood says, "Sometimes we go camping as close as a mile from our house! Even though we're close to home, we feel as if we are in a different state altogether." Stan goes on to say that "Most people have no idea what lodging options are close to where they live. We typically think that a vacation has to be far away, but it is easy to escape the routines of life without spending lots of money on gas." Lodging options in most areas include camping, hotels, cabin rentals, and vacation homes. These can be found by contacting the local chamber of commerce, the city or county website, or the local visitor's bureau.
Whether a staycation or a nearcation, it is important to plan activities that the whole family will enjoy. Perhaps there are activities that certain members have been wanting to do, but simply haven't found the time. Now is the time to explore them. Other ideas can come from the same sources that provided information on lodging. Many times the place of lodging can provide help as well. Stan states that a large part of their business is helping guests to find activities that suit their needs and desires. In fact, this has become so common that he has developed a 17 page downloadable document of things to see and do in Central Virginia.
Cabin Creekwood has been providing "Truly Restful Getaways" since 1982. The family-owned business is committed to providing clean, comfortable, and affordable cabin rentals in the Blue Ridge Mountains of Virginia. For more information visit their website at http://www.cabincreekwood.com.