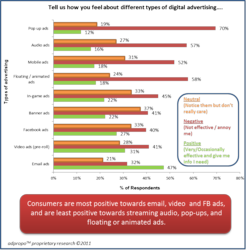 There are really creative things happening right now from brands. The disconnect is how those cool things are delivered to consumers when and where they expect them - and better yet, welcome them. That's what adpropo offers.
(PRWEB) March 27, 2012
Adpropo is opening a new site today that will change the way brands and consumers engage, making it a far more fun and valuable experience. By creating an environment that is very transparent and encourages interaction in entertaining ways – not to mention incenting those interactions with cool prizes and charitable support – both sides will have a much more rewarding experience.
Research conducted by adpropo in October 2011 showed that, depending on the type of online ad, between 32% and 70% of consumers find those ads to be ineffective and/or annoying. In addition, 76% of consumers indicated that they believe online advertising can happen in a better way. Given that brands are spending more than $30 billion annually on online ads in the US, it is clear that the bar should be raised and that change is in order. That change is what adpropo provides.
Adpropo's Phase 1 objective is to present both brands and consumers a way to work together in a designated and fun environment, and to then gather ideas and feedback. There are four main elements of the site:
PLAY: Live, online Treasure Hunts for cash and prizes, games, contests and more.
SHARE: Idea Labs encourage consumer brainstorming and collaboration with brands, in context. A Message Center allows consumers to sign up for the brands that matter to them and then receive deals, discounts, and special information within a private on-site Inbox.
WIN: Incentives include virtual points, cash prizes, gift cards, and support of great charities. As the site expands, so will the prize and support opportunities.
CHANGE: adpropo is all about change. The adpropo platform exists solely in order to change the way consumers and brands relate and get value from one another. Not to mention, by tying cause support to site activity, adpropo would like to change the world!
"We are really excited," said Founder Stephanie Rosenlund. "This is a big thing in the making. You have Facebook to interact and manage relationships with friends and family, LinkedIn to interact and manage relationships with professional colleagues, and now you have adpropo to interact and manage relationships with brands. It makes sense. It's overdue."
adpropo is opening its beta site with some emerging brands. "We have some interesting and unique brands on board for our Phase 1 efforts," says Rosenlund. "As the site grows, we plan to have all the household names on board, coming together across a variety of fun programming to leverage creativity and resources. But the brands that will be tomorrow's household names have great things to offer consumers as well, and it's fun to be working with lots of creative minds to get this right." adpropo will also be working with the Children's Brain Tumor Foundation and Arise Academy Charter High School, helping to raise awareness of and donations for their impactful work.
The site is officially open and accepting registrations. There first four Treasure Hunts are scheduled and open for sign up. The first will be held on April 4th for $1,000 worth of prizes, and the others will occur every two weeks with increasing prizes ($5,000 for the 4th of this set). There are some Fun Fact Trivia Challenges open in the Games section, and the Idea Lab and Message Center are up and running. "Our goal is to build a really creative and collaborative environment where people want to come to have fun and win," Rosenlund says. "We are welcoming feedback and ideas from everyone who participates to make sure that we do that in the best possible way."
Adpropo is an online platform designed to bring brands and consumers together in a more entertaining, collaborative and rewarding way. Live online Treasure Hunts, games, Idea Labs and more will creatively highlight brand messaging, allowing consumers to get great information when and where they expect it - while having fun and gaining value.
###