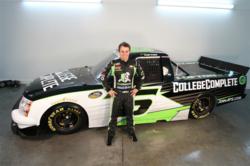 We are always looking for opportunities to make our Free Education Advice service as well as Justin Lofton more accessible to the public
Sesa Cliff, NY (PRWEB) March 26, 2012
CollegeComplete.com, the country's leading Education Matching service providing free education advice (877-543-2655), announces that it has released a first of its kind interactive section to its website. NASCAR driver and spokesperson Justin Lofton will post weekly videos on "LoftonTube" provided unmatched access to the driver for his fans.
As the season progresses, Justin will continue to update this page weekly with messages to his fans as well as use the page as a place to post future fan conversations. Followers of Justin and College Complete on twitter (@jlracing and @CollegeComplete) will be given opportunities during the season to have Q&A sessions with the 2009 ARCA Champion and current driver for Eddie Sharp Racing in the NASCAR Camping World Truck Series.
"We are always looking for opportunities to make our Free Education Advice service as well as Justin Lofton more accessible to the public" said Dan Haim, CEO of CollegeComplete.com. "By keeping the conversation about education out there, we hope that more and more people will see education as an opportunity to improve their lives."
Currently, LoftonTube has 3 videos posted (the most recent posted today). Plans are to release weekly videos giving fans access to behind the scenes information, views, thoughts and unfiltered content.
People looking to learn more can contact their personal Education Advocate by filling out an information request form on CollegeComplete.com or by calling 877-543-2655. They are available Monday through Thursday from 10am through 7pm and Friday 10am through 4:30PM. Their assistance is available at no cost to you and requires no future obligation. Education Advocates are there for the public to provide information and assist potential students in identifying the best schools to achieve their goals.
About College Complete
Partnered with hundreds of educational institutions and across all types of education goals, including traditional college degrees, trade and vocational certifications, and professional licensure, College Complete helps students assess all of the information that exists in the public domain, allowing them to understand and make sense of their educational opportunities. Their services are free and available to anyone. Whether you are interested in Art and Design, Business, Computers and Technology, Criminal Justice, Education, Healthcare and Medical, Science and Engineering, and much, much more; if you're an Electrician, a Nurse, an Automotive Mechanic, a Teacher, a Police Officer, or you're simply interested in learning Computer Programming, Networking, Web Development, or Graphic Design College Complete is available for you at no cost. You can reach them by filling out a form on their site or calling to speak with your personal Education Advocate at 877-543-2655. College Complete has an initiative to assist those in the US Armed Forces and their families and is able to assist in identifying schools that will not only provide the educational requirements of the soldier, veteran or family member but will do so in a cost effective manner.