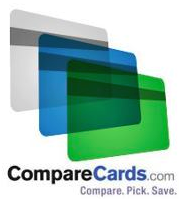 If someone's credit is good enough to qualify for an American Express card then they can apply for a much more robust cash-back or rewards program card from Amex or one of its competitors.
Charleston, SC (PRWEB) March 28, 2012
CompareCards is a leading service for consumers to compare credit cards and manage their personal finances. The site recently added a new review of Macy's credit cards, and it methodically analyzes the cards. Along the way it reveals key benefits as well as some valid reasons to avoid them in favor of other credit cards.
As the post on CompareCards.com's blog explains, Macy's basically offers two big choices when it comes to cards. One is a Macy's department store charge card. The other is an American Express card affiliated with Macy's. All of the Macy's cards are tied to the store's Star Rewards Program. After accumulating $25 worth of rewards program participants get a gift certificate that can be redeemed toward purchases at Macy's.
Below are some of the main highlights:

This is a pretty basic store charge card with some perks attached. Customers use the plastic to make purchases and are sent a monthly billing statement. Those who decide to carry a balance will pay a pretty steep interest rate of approximately 25% APR or more. Those who sign up are entitled to a 15% discount on purchases made using the card. But that promotion only applies for the day that they sign up for the card, plus the very next day. After than it expires, and it also cannot be combined with other discount offers except in some specific circumstances. Worse still, the saving from using the discount cannot exceed $100.

Macy's American Express Credit Card
The American Express version of the Macy's card is also connected to the store's Star Rewards program, but it is a much better flexible and useful choice. That's because it works like a typical Amex card so it can be used all over the world. American Express cardholders are also entitled to travel, dining, and shopping discounts and coupons from 100s of Amex partners. The APR is approximately 24.50% and there is no annual fee. The rewards are also based on a tiered system, so that as card members spend more money at Macy's they earn rewards at a faster rate. But the rewards and other features of this particular card are not that remarkable when compared to many of the other kinds of reward cards offered by American Express.
Macy's American Express Preferred Credit Card
The Macy's Amex Preferred Card doesn't have an annual fee either, but it rewards cardholders with 3% Star Rewards at Macy's all the time, plus savings and upgrades on travel, hotels, and rental cars through companies that partner with American Express. To be eligible for this card, however, consumers must spend at least $1,000 a year at Macy's.
"American Express is a great credit card company with outstanding customer service, and Macy's is a fantastic store," explained Chris Mettler, president and founder of CompareCards.com. "But the Macy's Amex card has an awful lot of reward limitations. If someone's credit is good enough to qualify for an American Express card then they can apply for a much more robust cash-back or rewards program card from Amex or one of its competitors. My recommendation is to shop for the best possible card, instead of being limited to Macy's credit cards."
With recommendations that put the consumer first, CompareCards.com provides crucial information for consumers, students, business travelers and others looking for guidance on credit card deals and other personal financing issues. Visitors to the site can use handy tools to help manage their finances or select the best and most appropriate credit card for their particular income bracket, credit history profile, and individual preferences. There are also credit card specialists available via live chat during normal business hours.
About CompareCards.com
CompareCards.com serves as an efficient navigational tool in the ever-increasing space of online credit card offerings. Started as a listing resource for consumers, the site has expanded steadily and now serves as a multi-dimensional service for users to compare credit cards side-by-side and utilize additional functions to manage their credit. The site analyzes details on more than 100 leading credit card offers and has been mentioned in Business Insider, ETV Public Radio, CBS Money Watch and MainStreet.com. For more information, just visit http://www.CompareCards.com.