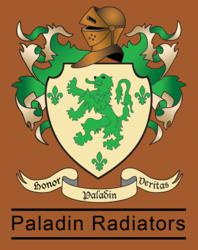 we will be showing several new ranges of cast iron radiators that are exclusive Paladin Radiators
Boston, Lincolnshire, (PRWEB) March 28, 2012
Paladin Radiators are all set to steal the show yet again as they once more create an informative and exciting display of their cast iron radiators alongside many other design ideas at the NEC. You can find them on stand L136 in the Period Property Pavilion at the end of March 2012 within the National Homebuilding and Renovating Show. Make sure that you have the dates in your diary and that you don't miss out on this show which is well renowned for providing inspiration, ideas and advice to all visitors helping them to create their dream home. This show is the UK'S biggest self-build and renovation event and this year sees them celebrating their 21st Anniversary and they are promising that it will be bigger and even more interactive so it's an event not to be missed.
Helen Proctor the Managing Director of Paladin Radiators added "In past years we have had numerous visitors and they have marvelled at our display of stunning cast iron radiators and we are promising that this year will be no exception. At the 2012 National Homebuilding and Renovating Show we will be showing several new ranges of cast iron radiators that are exclusive to Paladin Radiators as well as new and exciting paint finishes."
Paladin Radiators have been investing heavily in their facilities when others have been cutting back and have recently moved to larger work shop premises. This move has been made in order for the business to continue to grow and meet the high demand for cast iron radiators allowing them to hold over £700,000 worth of stock, their new facility will see the business being in a position to cope with this demand well into the future. "Being more efficient than modern steel radiators the demand for cast iron has risen sharply in the past few years. Those clients who choose to visit the workshop are treated to a step back in history as the cast iron radiators are hand built and finished much the same as they were in the 1800's when the cast iron radiator was first invented" added Helen.
Paladin cast iron radiators are a great choice for the period home but this doesn't mean that they shouldn't be considered for other homes as they also fit in well with modern decor. As they have in the past, at this year's show Paladin Radiators will be showing design ideas for both modern and period homes. The Paladin Sales Team will also be on hand to discuss all your cast iron radiator requirements and they can guide you towards the best choice and style for your home; they can even calculate BTU requirements if you have your room size details with you.
Paladin Radiators have once again been called upon to share their expertise in the field being invited to conduct a Master Class session at the show on Sunday April 1st 2012 at 11.am. The theme for this year's Master Class will be "Advice on the pitfalls and facts on choosing radiators for your home" and if you get the chance is well worth having a listen as well as giving you a brief respite from the show. Helen Proctor added the following "For many years now Paladin Radiators have been growing their reputation for being the UK's leading specialist in cast iron radiators, couple this with our being a manufacturer and you can soon see how Paladin Radiators can deliver very competitive prices for all those interested in owning cast iron radiators."
So why not give yourself a break and have a fabulous day out at this year's National Homebuilding and Renovating Show, visit their stand and catch a deal on your cast iron radiators. Paladin Radiators will be having a selected range of their radiators on sale making your purchase even more attractive and everyone who visits the stand will receive a special discount card. Whether you are considering Barn conversions, outbuilding conversions, extensions or contemporary new builds or you are looking to restore the traditional palatial period home or quaint period cottage you will find something on the Paladin exhibition stand to suit and compliment.
For more information visit the Paladin web site http://www.paladinradiators.com or contact the sales team on 01205 350070 or email us at sales@paladinradiators.com.