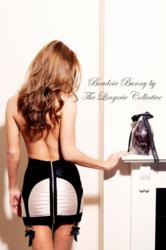 Boudoir Bunny easter eggs are the most luxuriously decadent gift this Easter. Handmade in England with love
(PRWEB UK) 27 March 2012
Christine McGuiness, British model and wife of prime time TV presenter Paddy McGuiness, Christine is the perfect model for lingerie. With an utterly stunning curvaceous figure Christine models the silk MC Lounge knickers that are found inside the luxury eggs, as well as other pieces from The Lingerie Collective boutique as part of the Boudoir Bunny Easter promotion.
Paul Young is a groundbreaking and inspirational chocolatier who is at the forefront of the British chocolate scene. Paul's passion for his craft and his cutting edge creativity have won him
numerous awards and led to him being ranked amongst the world's best chocolatiers
MC Lounge is a luxury lingerie & loungewear brand which is sold in boutiques and departments stores around the world. The brand has appeared in numerous editorial features, including the cover of Cosmopolitan in November 2012 modelled by Kelly Rowland.
The Lingerie Collective Online Egg Hunt
To celebrate and promote Boudoir Bunny, The Lingerie Collective will be hosting an online egg hunt.
10 Boudoir Bunny Eggs have been hidden throughout the website, http://www.thelingeriecollective.com and everyone is invited to join in the fun for a chance to win one of our luxury giant eggs - only five have been made.
The giant eggs contain a pair of the silk knickers as well as a beautiful silk blindfold – making the Easter fun a little bit naughtier than usual!
To enter all you have to do is locate the 10 eggs that are hidden throughout the site and send the locations along with your contact details to info(at)thelingeriecollective(dot)com
Boudoir Bunny Eggs are available from The Lingerie Collective boutique, 8 Ganton Street, London, W1F 7QP and online at http://www.thelingeriecollective.com
Contact for information and images
Kelly Isaac
kelly(at)thelingeriecollective(dot)com
+44 0207 437 1063 / +44 7894 906879