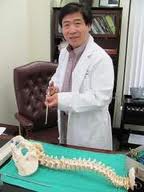 We can now surgically repair a painful bulging disc in a much less invasive, much more effective manner
Edison, NJ (PRWEB) March 27, 2012
When the St. Louis Cardinals' star pitcher was sidelined earlier this month, sports fans suddenly took interest in a little-known spinal problem: the bulging disc. This condition, which in many cases can go unnoticed for years, can put top athletes like Chris Carpenter on the bench. And while most bulging discs can be alleviated with conservative treatments, some will require surgery.
"We can now surgically repair a painful bulging disc in a much less invasive, much more effective manner," says Kaixuan Liu MD, PhD, chief surgeon at Atlantic Spinal Care in Edison, N.J. Patients can be back to their routines—even if those routines involve major league baseball—in about six weeks.
What gives?
A bulging disc, quite simply, is a protrusion of the disc—a jelly-donut-like structure that comprises a gooey inner nucleus and a tough outer membrane, called the annulus—that separates and cushions the bony vertebrae of the spine. When the annulus weakens, most often because of age and/or wear and tear (like the repetitive stresses of professional pitching), the pressure can cause the nucleus to bulge into the weakened area. Only a small percentage of disc bulges will actually cause symptoms, however. "You wouldn't even know you had one unless the bulge was touching nerves or other surrounding structures," he says. Only an MRI, not an X-ray, can show a bulging disc, he adds.
If your bulging disc causes symptoms, they'll most likely be pain in the immediate area, along with numbness, tingling, and pain along the associated nerve pathway, which you'll feel after performing an activity that puts pressure on the nerve. A bulging disc in the neck, called a cervical disc, can cause numbness and tingling in the arms, hands, and fingers, while a bulging lumbar disc (in the lower back) can create those sensations in the legs, feet, and toes.
No matter what its symptoms, however, a bulging disc is usually a sign of problems in the surrounding areas of the spine, Dr. Liu says, such as excessive pressure on the spinal disc or degeneration of the disc caused by age or overuse.
Battling the bulge
In the majority of cases, painful bulging discs can be treated conservatively, with rest, anti-inflammatory drugs and physical therapy. In some cases, a doctor will prescribe an epidural injection (delivered to the bony space in the spinal canal) to further relieve pain and swelling around the nerves.
If these measures don't bring relief after four to six weeks, or if your symptoms are severe and threaten to cause permanent damage—you're experiencing numbness or muscle weakness that affects your walking, or you are having problems with bowel or bladder function—bulging disc surgery may be required.
Traditionally, bulging discs have been treated with an "open" procedure, in which the surgeon makes a large incision and cuts through the muscle and surrounding tissue to reach the damaged disc. This surgery is invasive, requires overnight hospitalization and general anesthesia, and entails a lengthy recovery with strong pain medication.
But today's bulged disc surgery can be performed endoscopically, meaning the surgeon makes a tiny incision and uses a miniature camera and other special surgical tools to reach and repair your damaged disc, all while administering only local anesthesia. This approach offers shorter recovery and easier rehabilitation—and also delivers a much higher success rate than traditional open surgery. Bulging discs requiring surgery are generally treated with an endoscopic discectomy, in which the surgeon removes a portion of the damaged disc, or an endoscopic foraminotomy, in which he or she removes the section of bone, ligament, or other tissue that's being impinged by the disc bulge.
About Dr. Liu: Kaixuan Liu, M.D., Ph.D., is a renowned endoscopic spine surgeon and founder of Atlantic Spinal Care, LLC, in Edison, New Jersey (http://www.atlanticspinalcare.com).Dr. Liu is certified by The American Board of Pain Medicine and The American Board of Anesthesiology, and is a member of The International Society for Advancement of Spine Surgery, The American Society of Interventional Pain Physicians (ASIPP), The American Academy of Pain Medicine (AAPM), The International Intradiscal Therapy Society (IITS), and The American Society of Anesthesiologists (ASA). He also serves as an international surgeon for The Spinal Foundations in England.