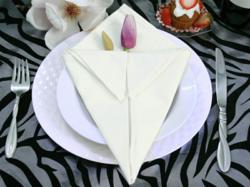 "Our wedding linen tablecloths reflect that desire for beauty and uniqueness, and we expect them to be popular for future wedding seasons," says Jonathan Chung. V.P.at TableClothsFactory.com
City of Industry, CA (PRWEB) March 29, 2012
With couples spending an average of $30,000 on a wedding, ordinary wedding tablecloths just won't cover it anymore. TableClothsFactory.com is proud to announce their Chambury Casa Wedding Linen Tablecloths collection, inspired by European fabrics and crafted from 100% cotton. The Chambury cotton wedding tablecloths line emphasizes a more luxe wedding accent at prices that still accommodate average wedding budgets.
The Knot Real Weddings Survey revealed that the average wedding budget fell only slightly between 2008 and 2009 – by 5%. Considering it was measured during a period of economic instability, this data reflects on prospective bride and groom's desire to have as beautiful a wedding as possible. The Knot further reported that more brides are integrating DIY aspects into their weddings to up the luxury factor, with the average bride adding three DIY elements to her wedding.
Jonathan Chung. V.P.at TableClothsFactory.com, explains how wedding reception tablecloths have increased in popularity, with more bride-to-be's opting to go DIY and purchase luxury wedding tablecloths online, typically beating the price they would pay to their wedding venue to upgrade to a higher quality tablecloth.
"When we think of the wedding reception, two words often come to mind: 'beauty' and 'unique'. The brides we work with want to ensure their wedding is stunning, even on an average wedding budget, and that it reflects the couple's unique personality. Our wedding linen tablecloths reflect that desire for beauty and uniqueness, and we expect them to be popular for future wedding seasons," says Chung.
TableClothsFactory.com's Chambury Casa Wedding Linen Tablecloths line invokes the European elegance associated with the renowned Chambury House fabrics. Discover the sophistication of Cotton Wedding Tablecloths, and allow your guests to bask in the sensual elegance of the fabric.
About TableClothsFactory.com
TableClothsFactory.com was founded by two wedding supplies enthusiasts in 1994, and through passion and dedication to providing brides with beautiful, yet affordable wedding decorations and favors, the company has grown to the wedding powerhouse that it is today. Emphasizing exceptional service and an extensive selection TableClothsFactory.com is proud to provide upscale collections like the Chambury Casa Wedding Reception Tablecloths to brides at affordable prices.