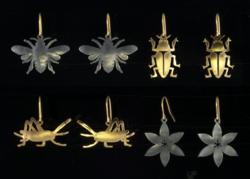 The Ark Collection of handcrafted earrings and necklaces is powerful feminine jewelry inspired by the mysterious and profound relationship we have with our fellow animals and all life on earth.
Boston, MA (PRWEB) March 27, 2012
Jenne Rayburn Handcrafted Jewelry and Wearable Art, a local Malden, MA, jewelry and fashion accessories designer and start-up, known for innovative designs and her vintage inspired aesthetic, has been selected to participate in a Mass Innovation Nights(MIN) event held at the Appleton Mills in Lowell, MA on April 11th at 6:00pm. Jenne Rayburn is one of 10 companies to participate.
Held once per month and open to the public, Mass Innovation Nights provides innovators and entrepreneurs the opportunity to connect with the main stream media, the marketplace and each other. The event allows companies to unveil new products to an audience of social media enthusiasts, mass and industry media, potential customers and prospective partners.
"Handcrafted jewelry and fashion design may seem like an unusual paring with technology and innovation companies," said Jenne Rayburn, Jenne Rayburn founder and designer, "but we know that for robust technological innovation both technology and arts need to be in the mix. Artists and designers have a lot to teach us about leaving behind preconceived ideas, getting out of your comfort zone and taking risks. Mass Innovation Nights showcases the best of emerging Massachusetts based companies, and Jenne Rayburn Handcrafted Jewelry and Wearable Art is honored to be among those participating."
Jenne Rayburn is a Boston based handcrafted jewelry and fashion apparel design company. "Since I was a child, I have been designing." said Jenne Rayburn. "Jewelry, clothing, textiles and spaces – design is how I look at the world." In addition to metalsmithing, Jenne studied interior design and architecture, and her work evolves from the overlap between architecture, design, technology and art.
Original, multi-layered and fascinating, Jenne Rayburn creates unique jewelry and accessories designed to reflect the individuality of the woman who wears them. "My work is inspired by natural materials, vernacular design, and indigenous peoples." Said Jenne Rayburn "Like architecture, jewelry design blends art and science, form and function, inspiration and originality. I love playing with color and texture, and contrasting contemporary against ancient. With each unique piece of jewelry and wearable textile art, I strive to balance beauty and purpose, and to create something that will enhance a woman's individuality."
The Appleton Mills Event is at 219 Jackson Street Atrium,
Lowell, MA. Registration and networking starts at 6:00pm and the main event runs from 6:30pm – 8:30pm.
To RSVP go to Mass.InnovationNights.com
Jenne Rayburn Handcrafted Jewelry and Wearable Art Jenne Rayburn is a Boston based handcrafted jewelry and fashion apparel design company. A graduate of the University of Washington where she studied metalsmithing and fiber arts, and of the University of Massachusetts with a MS in Design, Jenne has been designing jewelry and apparel for over 20 years. Perpetual curiosity and a passion for experimentation resulted in her first jewelry collection made from etched copper and colorful enamel. Since then Jenne has created six unique collections that combine careful workmanship with unique materials and designs. Her work is carried in local galleries and online. Please visit http://www.jennerayburn.com for Jenne Rayburn's online flagship store. For wholesale information, please visit http://www.jennerayburn.com/wholesale.com
###