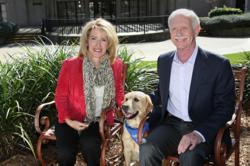 San Rafael, CA (PRWEB) March 27, 2012
Guide Dogs for the Blind (http://www.guidedogs.com), a national nonprofit, recently kicked off its 70th anniversary with a groundbreaking ceremony for a new student residence at its San Rafael, CA, campus headquarters. The organization has created more than 13,000 successful partnerships since 1942, offering enhanced mobility for people who are blind or visually impaired throughout the U.S. and Canada.
Paul Lopez, who was named CEO in January, described recent innovations to guests at the ceremony. "We have revolutionized our training and services to create a world-class program," he said, "providing the highest quality in care and support for both our dogs and the people we serve. We are excited about building a new residence for our students and are grateful to our community for their continued support of our mission. It takes a community – not only our expert staff, but also hundreds of dedicated volunteers."
Groundbreaking for the new student residence was celebrated on February 27, marking a major milestone in the organization's history. Captain Chesley "Sully" Sullenberger and his wife Lorrie, long-time Guide Dogs for the Blind (GDB) volunteers and supporters of the project, were among the honored guests, along with their breeder dog, Fame.
The LEED Certified student residence replaces the existing 23,000 square foot building in San Rafael that was constructed in 1968. The new residence will have 17 single-occupancy rooms for students attending the two- and three- week training programs. Features include walk-in showers, desks with computer connections, semi-private patios, as well as a group exercise room and therapy pool.
"This project is unique - an exciting challenge," explained Architect Phred Starkweather, Starkweather Bondy Architecture. "The population of people who are blind has changed a great deal since the original dormitories were built. The average student now is in his/her 50s and has different needs. We have benefited from the input of graduates of the program. Among the improvements are single occupancy guest rooms instead of the previous double occupancy room model, and all guest rooms lead directly to covered dog-relieving areas that will shelter students and dogs from the rain. In all aspects of the design we have strived to enhance the comfort and independence of newly arriving students."
GDB was founded to aid servicemen blinded in WWII. Today, the organization supports more than 2,160 Guide Dog partnerships throughout the United States and Canada. In addition to the San Rafael, CA, campus, there is a second campus near Portland, OR. GDB is supported entirely by private contributions. For more information, please visit: http://www.guidedogs.com.
About Paul Lopez: Paul Lopez brings more than 25 years of experience in Ophthalmology working with products, clinicians and patients to address the challenges of sight threatening diseases. His work targeted two of the leading causes of blindness: age-related macular degeneration (AMD) and diabetic macular edema (DME), and myopia in children.
Lopez served as a corporate officer of several companies: as President of the Ophthalmology Division of SurModics, Inc.; President and CEO of Valley Forge Pharmaceuticals, Inc.; and President of North American Surgical for Bausch & Lomb. He currently serves on the board of Alliance Medical Products. He received an M.B.A. from California State Polytechnic University in Pomona.
Through the course of his career, Lopez has collaborated with several non-profit organizations dedicated to improving the quality of life for the visually impaired, including The Foundation Fighting Blindness, Orbis International, and SEE International.
"We are fortunate to utilize Paul and his qualifications as we embark on this substantial project," said GDB Board Chair Etta Allen.