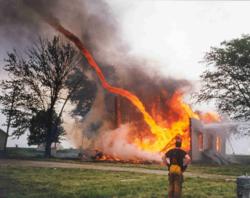 When you live in a tornado prone area you should always have a family readiness plan
Neptune, NJ (PRWEB) March 27, 2012
According to National Oceanic and Atmospheric Administration (NOAA), in an average year, 800 tornadoes are reported nationwide, resulting in 80 deaths and over 1,500 injuries. Damage paths can be in excess of one mile wide and 50 miles long. Once a tornado in Broken Bow, Oklahoma, carried a motel sign 30 miles and dropped it in Arkansas!
A tornado can be identified when clouds move in a rotating fashion and form a funnel shape that extends from the sky to the ground. Strong and damaging winds will be present and may reach upwards to 300 miles per hour. Tornado's could be classified as natures most violent storms and can form so quickly that in some instances communities may receive a late warning or no warning at all.
Terminology referring to an impending tornado includes a "Tornado Watch", which is issued when a tornado is possible and is a warning to remain alert for approaching storms. At this point skies are under observation and updates can be expected via local tv and radio emergency weather warnings. A "Tornado Warning" is issued when a tornado has been sighted or identified by weather radar this is the point at which shelter must be sought with extreme haste.
FEMA has published these safety tips for tornado preparation and safety:
-Being prepared is essential. Family plans for both the emergency and after the emergency are crucial, as is having on hand an emergency kit that includes first aid supplies, water, flashlight, food, battery operated radio and any other needs for a period of at least 72 hours.
-Listening to up to date weather reports and following any emergency instructions is recommended.
-Evacuation instructions are issued by emergency management professionals and should be followed also continued alertness to changing weather conditions and approaching storms is imperative.
-Signs of an approaching tornado include dark and sometimes greenish stormy sky, large hail, large rotating low-lying clouds, and loud roar that has been described as being similar to a freight train.
-When a storm as described happens, shelter should be sought immediately. Low places such as basements, storm cellars, or a central room on the lowest floor are options. It's possible to find safe places to shelter if outside such under bridges or in ditches (but flooding could be an issue).
-Trying to outrun a tornado is dangerous and not recommended as there is additional danger of flying debris.
"When you live in a tornado prone area you should always have a family readiness plan and listen in to a local radio station." said Don Colarusso a firefighter for more than 24 years and owner of http://www.AllHandsFire.com/fire-helmets, one of the nation's leading suppliers of Firefighter Turnout Gear.