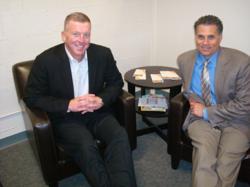 CollegeOnTrack has helped us ... make college a realistic possibility for these students.
Palo Alto, CA (PRWEB) March 27, 2012
After 20 years of teaching in public high schools, Daniel Campbell knew just how hard it could be to teach special education students in traditional settings. Their unique needs and learning styles are a poor fit for the assembly line nature of most schools. But Dan knew ways to help these underserved teens. He opened his own high school to put his ideas to work.
In September, 2009, Campbell and business partner Brian Kelly launched Beach Cities Learning Center in Manhattan Beach, CA. They designed an educational program just for special education students, and began partnering with neighboring schools to help the schools' special education populations. Less than three years later, Beach Cities Learning Center serves 13 Los Angeles school districts, helping 50 full time students on two campuses. In the short time they have been open, Beach Cities has graduated 5 students with high school diplomas, and 2 have been accepted into four-year colleges.They expect these numbers to grow substantially over the next two years.
How has Beach Cities grown so fast? According to President Dan Campbell, "We've focused on three key areas. Building individual confidence, increasing academic motivation, and improving critical thinking skills are the foundation of everything we do here at Beach Cities. The school districts we partner with appreciate our smaller scale and our ability to work one on one in these areas with some of their hardest–to-reach students."
Families appreciate BCLC because the staff helps their students aim high. Vice President Brian Kelly explains that CollegeOnTrack makes some of that possible. "Many students come to us without considering education past high school. CollegeOnTrack has helped us reach them and assisted us with designing a plan to make college a realistic possibility for these students. We have been lucky to find a corporate partner in CollegeOnTrack that shares the same core business values as our company."
Kelly goes on to say, "We have been able to open the eyes of our students to what they can truly accomplish. That's what got me involved in this business, and that is why I see our partnership with CollegeOnTrack as a real benefit that we can provide to our students."
About CollegeOnTrack
CollegeOnTrack was established in 2010, to provide college planning tools for families, schools, and counseling firms. It offers a combination of comprehensive college data, collaboration support, and task management that helps students build a mindset of success as well as create strong college applications. The company was a semi-finalist in the 2011 Berkeley Business Plan competition.
CollegeOnTrack ran successful tests last year at Wilcox and Independence High Schools in Santa Clara County, where students and teachers have been enthusiastic about the product. It was released to the public in January, 2012.
For more information about this topic, or to schedule an interview, contact Philip Roybal at (408) 782-4244, or phil(at)collegeontrack(dot)com.