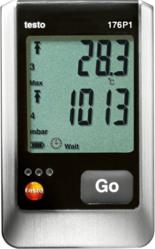 (PRWEB) March 27, 2012
MicroDAQ.com, the largest online provider of Data Loggers and Data Acquisition products in the world, has added the Testo 176-P1 5 channel multi-function data logger to its product line.
The Innovative 176 P1 offers internal measurement of Absolute Pressure, Humidity and Temperature and can be fitted with two external Temperature and Humidity sensors for unprecedented flexibility in laboratory and testing environments.
As with all 176 series loggers the 176-P1 offers USB connectivity for easy and fast set up and the convenience of storage to an industry standard SD card. When using an SD card up to two million data samples can be stored.
A robust metal case design assures optimum protection from impact, while the integrated anti-theft wall holder makes it possible to place the data logger almost anywhere.
Testo offers three levels of software for the 176 line. The Comsoft Basic 5 is available free as a download. Comsoft Professional 4 is available for purchase when some of the extended analysis and presentation features not offered in Comsoft Basic 5 are required. For customers in industries requiring CFR21 part 11 compliant software, the Comsoft CFR 21 software is the perfect choice and offers a validated solution that fulfills all of the FDA closed system framework requirements.
The Testo 176-P1 is available now for $799. Click here to view the product page on the MicroDAQ website or call our sales team at 603-746-5524.
About MicroDAQ.com, Ltd. – MicroDAQ.com is an innovative provider of compact, portable data logging devices and accessories for advanced data acquisition, communications and analysis. Offering thousands of products from over 30 manufacturers, MicroDAQ services customers all over the world through its award-winning online web site: MicroDaq.com
About TESTO, INC. – Testo, Inc. is a world leader in the design, development and manufacture of portable test and measurement instrumentation. Backed by over 50 years of measuring engineering experience our mission is to provide the best quality, service and value in the industry.