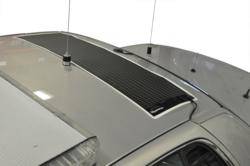 "PowerFilm has proven to us that you get what you pay for in the solar market," said Streamlight President and CEO Ray Sharrah. "They bring the product durability, reliability, top notch quality and delivery performance that we look for in a partner."
(PRWEB) March 27, 2012
PowerFilm, Inc. (AIM: PFLM), ("PowerFilm" or the "Company"), the developer and manufacturer of thin flexible solar panels and developer of roll to roll flexible electronics, today announces a partner relationship with Streamlight, Inc.®
Streamlight is a leading manufacturer of high-performance lighting equipment for law enforcement, firefighting, professional automotive, military, industrial, and outdoor applications.
PowerFilm™ will provide customized solar panels to Streamlight for integration with its products. PowerFilm and Streamlight have collaborated to develop the SolarStream™ solar panel specially designed to provide additional power to the batteries in emergency vehicles. PowerFilm will manufacture the newly developed solar panel while Streamlight will market and distribute the panel through their existing distribution and sales channels in the emergency response marketplace.
"PowerFilm has proven to us that you get what you pay for in the solar market," said Streamlight President and CEO Ray Sharrah. "They bring the product durability, reliability, top notch quality and delivery performance that we look for in a partner," he added. Their amorphous silicon solar technology is unequaled and provides us with amazing versatility. We are excited to bring this innovative frontier to our customer base and to do it with a quality organization like PowerFilm. We feel the future is energized."
The simple to install, 14-watt solar panel utilizes an optimized adhesive to mount to the vehicle and is wired directly into the electrical system to provide a constant trickle charge to the battery. Emergency vehicles, like police cars, are running an ever-increasing number of electronic devices, providing power to computers, radar, charging flashlights, etc. - placing a heavy burden on the vehicles existing electrical system. The new SolarStream solar panel provides enough supplemental power to the battery to ensure that the vehicle will start when needed and reducing the need to idle the vehicle – saving fuel and reducing emissions.
Field-testing has proven the value propositions for the panel:

Battery Life – the constant trickle charge to the battery lowers the depth of discharge within the battery, improving longevity
Provides assurance that the vehicle will start in emergency situations, even after sitting inactive for a period of time
Reduces idling need – allows the vehicle to be shut off to cut back fuel consumption and lower emissions helping the environment
"We are pleased to be partnered with such strong and well known name in the emergency and law enforcement market," said PowerFilm President and COO, Tim Neugent. "Streamlight has been producing solid and outstanding products for law enforcement for years and have earned a well deserved reputation for quality and innovation. We couldn't have found a better company and channel partner to drive the SolarStream to the market."
About PowerFilm
PowerFilm, Inc. was founded in 1988 and is a world-leading developer and manufacturer of thin, flexible solar modules using a proprietary low-cost production process. The company's primary objectives are to partner with select organizations to service portable and remote solar power applications and the building integrated solar power market. For more information, visit http://www.powerfilmsolar.com.
About Streamlight
Headquartered in Eagleville, PA, Streamlight, Inc. is a leading manufacturer of high-performance lighting equipment for professional automotive, firefighting, law enforcement, military, industrial and outdoor applications. Streamlight is an ISO 9001:2008 certified company. For more information, visit http://www.streamlight.com.