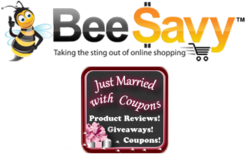 With BeeSavy, blogs earn money by helping their readers save money. It's truly a win-win. - Robert Honer, BeeSavy Founder
Syracuse, NY (PRWEB) March 29, 2012
BeeSavy.com, the first customer loyalty site to combine comparison shopping, coupon discounts, cash back, and referral cash back, announces today that they have entered into a partnership with JustMarriedWithCoupons.com. The agreement makes JustMarriedWithCoupons.com a BeeSavy affiliate and gives them a new way to monetize their site using the BeeSavy online shopping portal.
Here's how it works: BeeSavy.com is a customer loyalty site backed by 2,000 of the top internet retailers. When blogs like JustMarriedWithCoupons.com become a BeeSavy affiliate, they earn recurring revenue any time someone they referred shops through BeeSavy. Also, BeeSavy pays users cash back to further incentivize them to shop through the site. This solves the typical problem of turning readers into revenue.
"In the past, blogs had to use either low paying, pay per impression ad networks or depend on readers' benevolence to click on affiliate links," says BeeSavy founder, Robert Honer. "With BeeSavy, blogs earn money by helping their readers save money. It's truly a win-win."
"As a busy blogger, BeeSavy helps make my earnings efforts stretch further," says JustMarriedWithCoupons.com owner, Dawn Lopez. "Their affiliate program is 7-levels deep; that means every referral you make has even more maximum earning potential. That is what I call bee-ing savvy!"
To learn more about BeeSavy, visit http://www.beesavy.com.
To learn more about Our Kids Mom, visit http://www.justmarriedwithcoupons.com.
About BeeSavy:
BeeSavy is the first online shopping site to help users save money and even earn money shopping online. BeeSavy combines comparison shopping, coupon discounts, cash back, and referral cash back to ensure users get the best price. With nearly 2,000 of the most trusted stores on the web, users can find almost any product and earn cash back on their purchase. Through referral cash back, users are paid commission forever on all of the friends they refer to the site. BeeSavy…taking the sting out of online shopping.
About Just Married With Coupons:
Just Married with Coupons offers money saving tips, product reviews, and giveaways. Learn how to get the finer things in life for less!