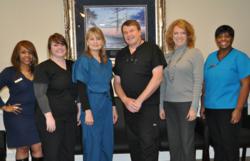 Loganville welcomes Princeton Dental. Best of Gwinnett 2011!
Loganville, Georgia (PRWEB) March 27, 2012
The dentist Loganville residents voted Best of Gwinnett 2011 is excited to announce the grand opening of its newest location. The office, which is owned and operated by Princeton Dental, is being led by Dr. Kevin Blair, DDS and Ms. Joanne Knapp, dental hygienist.
The new office is Princeton Dental's second location and will model after its Buford location by focusing on top-of-the-line customer service with state-of-the-art dental technology.
Princeton Dental offers comprehensive dentistry to patients of all ages. Their Buford patients have described their customer service as the best in town. Princeton Dental and its dentist in Loganville GA - Dr. Blair - is committed to ensuring Loganville residents feel the same way.
Princeton Dental is proud to have been awarded the Best of Gwinnett Dentist in 2010 and 2011. The award was presented to Princeton Dental by Gwinnett Magazine, a publication that features Gwinnett County's greatest places and businesses. The magazine received 60,000 collective votes from local residents that covered many categories. Winners were selected by the largest number of votes in their respective categories.
"We were thrilled to be voted the Best Dental Practice in Gwinnett in 2011! We work overtime to provide the best dental care available using the best technology available in an atmosphere that offers the greatest level of comfort. We are deeply grateful for everyone that voted us Best Dental Practice in Gwinnett. It's truly an honor to serve such an amazing community!" – Dale Bailey, Founder of Princeton Dental.
Princeton Dental's new, state-of-the-art Loganville office provides top-notch dental care in the areas of general dentistry, cosmetic dentistry, dental implants, dentures and partials, extractions, gum therapy, porcelain crowns and veneers, root canals, teeth whitening, and tooth-colored fillings.
"I am excited to be leading the new Princeton Dental office and working as part of a dental health care team that truly cares about the comfort and well-being of all our patients. We look forward to serving the Loganville community with first-class dental care for years to come." – Dr. Kevin Blair, dentist Loganville GA.
About Princeton Dental and Dr. Blair
Dr. Blair entered the US Air Force as a dental officer where he served until his retirement in 2005. Colonel Blair served in various capacities culminating as the United States Air Forces in Europe (USAFE) Command Dental Surgeon and Senior Department of Defense Dental Officer in Europe providing dental oversight for all branches of the service. Dr. Blair served with distinction. He was recognized as the Dental Officer of the Year in 1989 and was ultimately awarded the Legion of Merit Medal, unusual for a dental officer.
Upon retirement from the US Air Force in 2005, Dr Blair returned to Snellville, GA to be reunited with his wife Julie's family. Dr. Blair joined Princeton Dental Group, with a desire to serve his patients in a smaller, more personal environment. He will use his experience, knowledge and expertise to help see that Princeton is the best option for dental patients, employees and professionals in the Atlanta area. He is an avid tennis player and is active in his church. Dr. Blair is married to the former Julie Elizabeth Bartlett. They are the parents of a son, Adam a graduate of Auburn University working in the insurance industry and a daughter, Elizabeth attending Auburn University and majoring in Speech and Communication Disorders.
For media inquiries, please contact Princeton Dental:
Princeton Dental
4353 Atlanta Highway
Loganville, GA 30052
Phone: (770) 554-0848