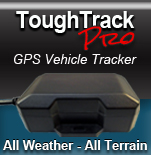 The ToughTrack PRO is designed to operate in harsh environments – places where your average tracker might fail.
Scottsdale, AZ (PRWEB) March 27, 2012
GPS Intelligence, a leading provider of GPS tracking solutions for commercial and government applications, has just released a new vehicle tracking device, The ToughTrack PRO – All Weather GPS vehicle tracker. Uniquely designed for tracking vehicles and equipment that may sit idle for extended time periods, the ToughTrack PRO provides an ideal tracking solution for both land and marine vehicles. Its durable, weather resistant and dust-proof casing enables users to monitor and track in virtually any environment.
The ToughTrack PRO's rugged exterior and superior GPS performance provide ideal tracking and monitoring for most types of vehicles including cars, trucks, ATVs, watercraft, motorcycles, trailers, utility vehicles and heavy equipment. Its small size and super-sensitive, next-generation GPS technology ensures that vehicles can be monitored 24/7, from a PC, smartphone or other mobile device.
Fleet managers, RV enthusiasts, equipment rental companies and individuals that want to secure and track vehicles will appreciate the versatility of the ToughTrack PRO. "The ToughTrack PRO is a great solution for any person or business that needs a tough GPS device, able to track vehicles that may remain idle for extended periods," said Brian Arrowood, Director of Sales and Business Development. "It's designed to operate in marine or in dirt and dust filled environments – places where your average tracker might fail. But, because it has a similar price point to other hard-wired trackers, this one is being used in applications from cars to watercraft."
Internal GPS and cellular antennas eliminate the need for wired antennas, making the ToughTrack PRO easy to install almost anywhere in a vehicle. An internal 3.8 Ah lithium ion back-up battery increases anti-theft measures by providing continued tracking even if the power is cut, enabling continued tracking and vehicle recovery.
The ToughTrack PRO also features a number of notification alerts that, when triggered, send text or email notifications to users. The tracker's motion sensor sends an alert when any unauthorized movement occurs, while the geo-fence settings provide alerts when the vehicle enters into or exits any pre-defined geographic area.
Plus, an extra available input enables users to define a custom alert. Custom alerts may include ignition on, trunk open, trailer disconnect, primary power cut or any other user defined event.
Also featured in the ToughTrack PRO are two relay outputs that enable users to remotely trigger anti-theft and tamper-prevention measures including starter disable, door lock, horn, lights and more.
GPS Intelligence has developed a custom online tracking site known as CovertTrack©, to provide Real-Time aerial tracking for GPS tracking users. The world-class tracking features found on the site are convenient and easy-to-use, with satellite or map-view tracking displayed down to sub-minute intervals. Tracking can be accessed on any internet accessible computer or pda-style cellphone - no software downloads necessary.
For more information about the ToughTrack PRO GPS tracker or to inquire about a fleet tracking consultation, contact Kirk Waltz, Commercial Sales Manager at 480-661-1916.
About GPS Intelligence, LLC
Founded in 2006 in Scottsdale, AZ, GPS Intelligence, LLC is a LBS company that specializes in GPS tracking solutions for law enforcement, government, and commercial applications.
For more information visit http://www.gpsintel.com.