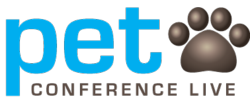 By Vets for Pets
Yorba Linda, CA (PRWEB) March 28, 2012
PetConference Live is very proud to present their inaugural 2012, FREE, online conference for pet owners. This conference brings veterinarians and pet owners together in an educational environment where pet owners can learn about topics of their choice directly from veterinarians. PetConference Live's motto is "By Vets for Pets". Veterinarians are helping to educate pet owners to become more of an advocate for their pet's health. Pet owners will be able to ask questions of veterinarians, and will be able to visit a virtual exhibit hall, where they will be able to speak in real time to the representatives of products that they currently use or are interested in trying.
Topics for this inaugural event will address common questions and concerns for cat and dog owners. These topics include, but are not limited to:
1. Preventative care and routine vaccinations
2. Parasite prevention and impacts on human health
3. Dental health and issues
4. Behavior medicine and training
5. Cardiology and common heart problems
6. Diabetes
7. Common cancers and treatments
8. Thyroid conditions
9. Caring for Aging Pets
10. Arthritis in dogs and cats
11. Nutrition
12. Feline Behavior/litter box issues
13. Urinary health
14. Dermatology
15. Breeding and neonatology
This conference is the first of its kind, as pet owners will be able to learn and discuss their questions with veterinarians in real time, for NO CHARGE. PetConference Live's goal is to educate pet owners so that they can have productive conversations with their own, personal veterinarians and so there can be educated decisions made for the wellbeing of their pets.
This innovative, exciting, FREE conference will be in December 1-2, 2012, and anyone interested in attending can register at PetConferenceLive.com. This event is not to be missed!
About Us
PetConference Live is the premiere on-line, virtual conference aimed at educating pet owners. PetConference Live is dedicated to improving lives of pets by educating the humans that care for them. We believe that by providing pet parents access to world renowned, expert veterinarians on topics that are important for their pet's well-being will enable pet owners to make educated decisions for the health of their animals. This empowers pet owners to have productive discussions with their personal veterinarians, trainers, pet store sales people, groomers and other pet owners. PetConference Live's educational events cover a range of topics related to almost all pet species, including but not limited to dogs, cats, horses, small ruminants, fish, birds, reptiles and pocket pets.