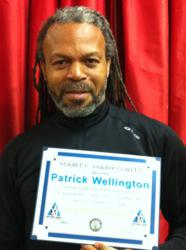 New York, NY (PRWEB) March 27, 2012
His philosophy of giving back to a community that has supported him throughout his career has not gone unnoticed; on March 14, he was awarded for his work with the Arthur Ashe Institute for Urban Health. This non-profit organization, founded by Arthur Ashe in 1992, partners with many organizations to address urban health care needs in areas disproportionately affected by economic and social issues. By working in collaboration and with the help of individuals like Patrick Wellington, the Institute is able to provide necessary tools, resources and information to improve the overall health services. The award was presented by Marty Markowitz, President of the Borough of Brooklyn. Well deserved!
It doesn't stop just there-Mr. Wellington dedicates his services to several Broadway actresses, ensuring their hair is flawless for photos, events, parties and much more. Mary Antonini of Jesus Christ Superstar and Laquet Sharnell loved their new, flattering 'dos, courtesy of Wellington Hair Spa. They were both more than red-carpet ready after precise, sophisticated styling. Laquet Sharnell is a repeat client of Wellington Hair Spa; it is sure that Ms. Antonini will be as well.
As spring approaches, Wellington Hair Spa gears up for a busy season-stay tuned for specials to make your spring beautiful!