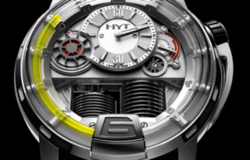 You have the indication of time, the hours, in the liquid system, [including] the minutes, the power reserve and the seconds.
New York, NY (PRWEB) March 27, 2012
Haute Time, the ultimate resource for luxury timepiece aficionados, is flooded with new content from Basel World 2012. Undoubtedly one of the most exciting new posts on the site surrounds a groundbreaking creation: an interview with Vincent Perriard, co-creator of the spectacular HYT H1.
Perriard and co-creator Bruno Moutarlier, former Industrial Director of Audemars Piguet, broke the mold with their first launch. The HYT H1 is the first timepiece to perform on liquids; it features mechanical and liquid time indications. A liquid module functions with two pistons moving liquid in the tube, resulting in 65 hours of power reserve.
Perriard walked Semilof through the intricacies of the watch. "Here you see the two containers," Perriard pointed out. "You have the indication of time, the hours, in the liquid system, [including] the minutes, the power reserve and the seconds."
He flipped the watch over, revealing an entirely different perspective. "If I turn the watch back, you have a view of the entire movement, and you see that we needed to have our own manufactured movement because we needed to free up at least half of the space to welcome the liquid system."
HYT H1 was created in Black Titanium, Pink Gold and Black Gold in only 160 units worldwide. The revolutionary timepiece took Basel World by storm, and we expect that Perriard's creation will do the same to the luxury watch industry in the years to come.
Gaining an inside look at the industry's star timepieces directly from the company CEOs demonstrates the respect and passion Haute Time reserves for luxury watches and their corresponding brands.
Discover the HYT H1 from the whiz himself here http://www.hautetime.com/feature/haute-time-presents-vincent-perriard-of-hyt-watches-at-basel-world-2012 and explore the many wonders of Basel World 2012 at http://www.HauteTime.com.
About Haute Time
Haute Time curators realize that luxury watches are more than style statements; they're representative of an individual's personality, aesthetic and attitude. The site features the most recent news in all things time, including new releases from the top brands, interviews with those helming these upscale watchmakers and a watch locator, which provides site visitors with authorized retailers nearby to them. Hautetime.com is frequently revised to reflect the latest in news, collections and brands, including Ulysse Nardin, Bell & Ross, Omega and beyond. Our experts regularly review the latest pieces and happenings in the market, including updates from Patek Philippe and Audemars Piguet.
# # #
For more information, please visit: http://www.hautetime.com