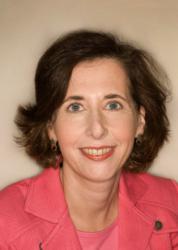 "The convention is fabulous: lots of great workshops, great networking. Worth every penny!" - Patty Ford, GPA Member and Conference Attendee
Indianapolis, IN (PRWEB) March 27, 2012
The Grant Professionals Association (GPA) has confirmed Stacy Palmer from The Chronicle of Philanthropy as the 14th Annual National Conference's Keynote Speaker.
GPA's annual conference boasts a reputation for having the most comprehensive and informative workshops and speakers who are experts in their respective fields. The 2012 Conference is located at the Hyatt Regency Indianapolis in Indianapolis, Indiana on October 17-20. At every conference, attendees find that they are offered an abundance of practical information as well as plenty of professional networking opportunities, including various Special Interest Groups. For more conference information, visit http://www.GrantProfessionals.org/professional-development/conference/featured-speakers.
This year's Keynote Speaker, Stacy Palmer has served as a top editor since The Chronicle of Philanthropy was founded and has overseen the development of its Web sites. She is also co-editor of the Chronicle Board Report, a newsletter for nonprofit trustees. She has appeared frequently on radio and television to offer commentary on news in the nonprofit world. She is also editor of "Challenges for Philanthropy and Nonprofits," a book published by the University Press of New England that collects three decades of observations by the nonprofit activist and Chronicle columnist Pablo Eisenberg.
Other featured speakers at this year's conference are:

David Bowers – Vice President/Market Leader of Enterprise Community Partners,
Rod Helm - President of Grant Writing USA,
Phil Maestri - Director of Risk Management Service at the U.S. Department of Education,
Bob Ottenhoff - President and CEO of GuideStar USA, Inc.,
Patrick Rooney - Executive Director of The Center of Philanthropy at Indiana University,
Trish Tchume - Director of the Young Nonprofit Professionals Network (YNPN),
Trinity Tomsic - Deputy Executive Director of Federal Funds Information for States (FFIS).
The Grant Professionals Association knows the value and importance of professional growth and development and works to provide quality opportunities.
Grant Professionals Association (formerly American Association of Grant Professionals), a nonprofit membership association, builds and supports an international community of grant professionals committed to serving the greater public good by practicing the highest ethical and professional standards. GPA is THE place for grant issues. We provide professional development by way of an Annual Conference and Webinars, professional certification (GPC), Journal and E-Newsletter, local Chapters, member benefits and more! http://www.GrantProfessionals.org.