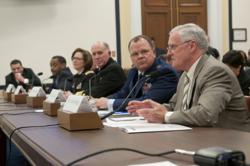 There are ways to make our defense health system more efficient besides raising healthcare fees,
Alexandria, Va. (PRWEB) March 27, 2012
Retired Col. Steve Strobridge, government relations director at Military Officers Association of America (MOAA), was the sole military association witness testifying at a March 21 House Armed Services Military Personnel Subcommittee hearing.
Strobridge, who also serves as Co-Chair of The Military Coalition, a consortium of 34 military and veteran associations, told the Subcommittee the Pentagon's proposals for dramatic fee hikes under the military TRICARE health system constitute a serious breach of faith with the military community.
He contrasted these proposals with senior Defense leaders' earlier commitments not to change the military retirement system for anyone already on active duty.
"If keeping faith means no changes for today's troops on retirement, then it's breaking faith to raise their retirement health fees by up to $2000," Strobridge said. "That's no different from a $2000 retired pay cut."
Strobridge sparred in debate with Dr. Jonathan Woodson, assistant secretary of defense for health affairs, who said a Congressional prohibition of TRICARE fee hikes would cause active duty end strength to be cut by 30,000 to 50,000 more troops than planned. The Surgeons General of the Army, Navy and Air Force also testified, but were not asked any questions about the TRICARE health fee increases.
"There are ways to make our defense health system more efficient besides raising healthcare fees," Strobridge said. He particularly challenged defense and service leaders' unwillingness to restructure the stove-piped military health care system that includes three separate service systems and multiple contractors that now compete for budget share.
"In the 1990s, the services ardently resisted efforts to make them operate more jointly, but when Congress put a requirement in law, they did it. And now think joint operations are great. It should be the same way now with healthcare. "
Strobridge said the Defense Department's recent review of possible health system reforms made only minimal changes, in part because the decision process gave heavy weight to how hard a change would be. "So the first choice was to make retirees pay more, because it was easier."
He called the proposed plan to means-test TRICARE fees based on the beneficiary's retired pay amount patently discriminatory against the military. "No other federal retiree has health benefits means-tested, and it's rare in the civilian world," he said. "Under that perverse system, the longer and more successfully you serve, the lower your health benefit."
Further, he expressed MOAA's strong objection to the proposal to index TRICARE fees to some measure of health cost growth. "We believe the percentage increase in any year should not exceed the percentage growth in military retired pay," Strobridge said.
Finally, Strobridge aggressively challenged the idea that military retirees should have their fees raised because they pay less for health care than civilians do.
"Whenever somebody gives me that argument," Strobridge said, "I ask them: If the military deal is so great, are you willing to pay what they did to earn it? Would you sign up to spend the next 20 to 30 years being deployed to Iraq, Afghanistan or any other garden spot the government wants to send you to? That's the huge pre-paid premium that's overlooked when you only compare payments in cash."
"The reality is that military people pay far greater premiums to earn their health care than any civilian ever has or ever will."
# # #
About MOAA:
Military Officers Association of America (MOAA) is the nation's largest officers association with 370,000 members from every branch of service, including active duty, retired, National Guard, Reserve, and former officers and their families and survivors. MOAA is a nonprofit and politically nonpartisan organization and an influential force in promoting a strong national defense. MOAA represents the interests of service members and their families in every stage of their lives and careers, and for those who are not eligible to join MOAA, Voices for America's Troops is a nonprofit MOAA affiliate that supports a strong national defense. For more information, visit http://www.moaa.org
View a video of the hearing at http://armedservices.granicus.com/MediaPlayer.php?view_id=2&clip_id=57