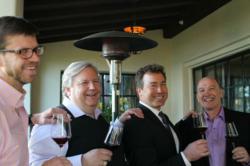 Maui, Hawaii (PRWEB) March 26, 2012
Imagine taking part in small, private gourmet dinners with wine pairings selected by four of California's top producers of Pinot Noir. Perfect. Now imagine learning about these wines by attending exclusive seminars and tastings at Four Seasons Resort Maui, June 7-9, 2012 during a weekend of palate-pleasing events led by vintners from Anthill Farm Wineries, Brewer-Clifton, Costa de Oro and Patz & Hall. Even more perfect is the panoply of luxuries and comforts while staying at this continuously celebrated and award-winning resort. Put it all together and it becomes an unforgettable event for wine lovers and foodies alike. In fact, this program is one of a series of "Unforgettable Events" featured at the resort.
The three-day event, "Four Pinots at Four Seasons Resort Maui," includes seminars hosted by Master Sommelier Roberto Viernes and exclusive wine-paired dinners held at each of the resort's award-winning restaurants—Ferraro's, Spago Maui and DUO, with a fourth dinner taking place locally at Capische. "Each wine dinner gives guests a personalized opportunity to interact directly with the winemakers. It's going to be a high-touch affair," says Mark Simon, director of marketing, Four Seasons Resort Maui. There will be many opportunities for wine aficionados and food lovers to learn from these vintners about what makes Pinot Noir so special. "We've come together because of our absolute love of Pinot Noir. 'Four Pinots at Four Seasons' is the perfect opportunity to showcase the dynamic essence of this really small appellation," says Steve Clifton of Brewer-Clifton.
Guests may also elect to take part in a Saturday golf tournament at the Wailea Emerald Course followed by lunch at Gannon's – a Pacific View restaurant.
The event culminates in a gala oceanfront dinner featuring over forty hand selected wines. Local "farm to table" gourmet cuisine, prepared by Master Executive Chef Roger Stettler, takes center stage with Maui local produce being displayed and personally presented by area farmers who will talk about their products and farming methods. Fishermen will display and discuss their 'fresh catches' and the process of quickly going from sea to table.
About the uniqueness of Pinot Noir, vintner Donald Patz of Patz & Hall says: "Sommeliers call it the go-to red wine because it matches up so widely with many different foods. The classic situation is the woman wants to have fish for dinner, the man wants steak. What wine do you order? You order Pinot Noir because it will match up with fish but it will blow the steak away."
To view the vintner's video introducing Four Seasons Resort Maui's Unforgettable Event, go to: http://maui.enewsletters.fourseasons.com/2012/01/24/four-pinots-at-four-seasons/. Ticket prices for the various wine events begin at $98 per person and the resort concierge team will be able to discuss and customize a wine itinerary for attendees. For information, call 808.874.2201. When attending at least one paid wine event, guest accommodations will be available at 20% off the best available rate for your entire stay. Contact the resort directly 808-874-8000 for further details.
Unforgettable Events: This event is one in a series of the resort's Unforgettable Events, hosted over the course of the year to provide guests with one-of-a-kind opportunities in the fields of sports, wellness, and culinary and wine. Among the upcoming events are Fantasy Tennis Camp, Maui Cycling Camp, and the Wailea Food and Wine Festival during which the celebrated Red Violin – and its owner – will visit Four Seasons Resort Maui and perform a private concert. For more information on these and future Unforgettable Events, view: http://maui.enewsletters.fourseasons.com/unforgettableevents/
About Four Seasons Resort Maui, (http://www.fourseasons.com/maui)
Maui's first and only Forbes Five-Star resort is nestled on 15 acres of the breathtaking Wailea coast. The 380-room oceanfront property is world-renowned for its comfortable opulence, impeccable service, luxurious amenities, and for living in harmony with its environment and community. The resort is also home to one of the nation's top-rated spas and three of Hawaii's most acclaimed restaurants – Ferraro's Bar e Ristorante, Spago Maui and DUO, a premium steak and seafood restaurant.