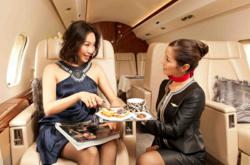 Working together, Sino Jet and TWC Aviation can offer the most sophisticated clients a safe, luxurious, enjoyable travel experience that meets their high standards and expectations.
Shanghai (PRWEB) March 27, 2012
About the Sino Jet / TWC Aviation Alliance
Under the terms of the agreement, all U.S.-registered aircraft in the Sino Jet VIP Charter fleet will be operated and maintained according to U.S. standards on TWC Aviation's Air Carrier Certificate. Sino Jet will market management, charter, and brokerage services to clients who want the operational foundation of a U.S. operator, certificate, and maintenance practices, combined with the geographic, cultural, and aviation expertise of an Asia-Pacific organization. The alliance offers the best of both worlds to clients who demand the ultimate in safety, service, convenience, luxury, and privacy.
"We are excited to begin this partnership with TWC Aviation," said Ms. Jackie Wu, Chief Operating Officer, Sino Jet Management Limited. "We share the same philosophy of meeting each client's every need for safety, performance, and individual service. By capitalising on our nurtured network and clientele in Asia, and TWC's operational and maintenance oversight, we are able to offer something truly unique and valuable in the Asia-Pacific region."
"As TWC expands into the fast-growing Asia-Pacific market, we understand the need for a strategic partner experienced with local customs, cultures, languages, and regulations," said Andrew Richmond, CEO of TWC Aviation. "Sino Jet has assembled a talented group of aviation professionals who share our passion for service and attention to detail. Working together, we can offer the most sophisticated clients a safe, luxurious, enjoyable travel experience that meets their high standards and expectations."
Sino Jet VIP Charter Services
VIP Charter clients fly on the world's premier business jets, enjoy unsurpassed safety and luxury, personal service, and attention to detail. Sino Jet offers custom-tailored concierge services, provided in conjunction with five-star hotels, with every service and amenity a client may desire. To inaugurate the service, Sino Jet has enhanced a 13-passenger Bombardier Global Express with superb appointments, including a Calvin Klein satin couch deployable into double-bed, leather panelling, designer's handmade silk carpets, and club seats upholstered in pearl-finished sheep leather. Additional high-end aircraft will join the VIP Charter fleet throughout 2012.
About Sino Jet Management Limited
Sino Jet Management Limited is a Hong Kong-based premium business aviation services and solutions provider. Sino Jet service strives for excellence by offering a wide array of superior services to the most discriminating business and private clients. Sino Jet has substantial business aviation experience and global connections, and is a true one-stop business aviation services provider. In addition to the new VIP Charter services, the company offers aircraft acquisition and management, financing solutions, flight dispatch and support, aviation consulting, aircraft delivery, refurbishing and modification, crew training and placement, concierge services, and aircraft-on-ground (AOG) engineering support. Additional information is online at http://www.sinojet.org.
About TWC Aviation, Inc.
TWC Aviation provides aircraft management, charter, sales and acquisition, and maintenance services to clients worldwide. TWC Aviation manages a diverse fleet of more than 50 business aircraft throughout the U.S. and abroad, with operations centers in San Jose, Los Angeles, and New York. The company's fleet includes jets from Bombardier, Dassault, Cessna, Embraer, Gulfstream, Boeing Business Jets, and Hawker Beechcraft. TWC Aviation is audited by independent safety organizations: IS-BAO, ACSF, Wyvern, and ARGUS. Aircraft operate under FAA Air Carrier Certificate BZUA138N. TWC also maintains an FAR Part 145 Repair Station certification. Further information about TWC Aviation is available at http://www.twcaviation.com.
###