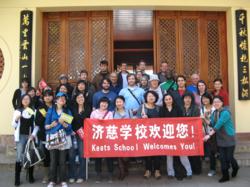 New Chinese language course designed for children is now available at Keats School. The course can be completed both by students learning Chinese in China and studying Mandarin online.
(PRWEB) March 29, 2012
In the year of 2011, many parents took their children who are 6 to 15 years old to Kunming Keats School to learn Chinese in China, accounting for 34% of the whole students learning Mandarin at Keats School of that year. In accordance with the present upsurge of children's Chinese language learning, Keats School has recently started to offer the specialized children's Chinese learning program, which is favored and welcomed by both children and parents.
In the Chinese language program designed for children, students will study Chinese one-on-one and can start the Mandarin program anytime during the year. Based on various learning situations, the school can carry out corresponding teaching methods to ensure the teaching quality and reach the goal of learning Chinese. Furthermore, the learning contents are created and compiled by teachers at Keats School on the basis of the characteristics of children. Every language point is processed with interesting forms and can be completed within fifteen minutes. In this way, the children can study in a happy atmosphere, stimulating the interest in Chinese language learning.
By taking the course with outdoor Mandarin Chinese lessons, the children can feel the real Chinese language environment and have a better understanding of Chinese culture. The teachers will accompany them to go shopping in the markets, to enjoy the famous and delicious snacks as well as to visit the museums, schools, parks and the nearby villages.
In addition, Keats School also established a Chinese language corner for children and it attracts many Chinese people every Saturday afternoon. The foreign children who study in China can play together with Chinese kids such as singing Chinese songs and English songs, watching Chinese movies, and practicing Chinese and English with each other. This is one of the most popular ways for children to study Chinese, welcomed by many parents.
At the same time, Keats School also arranges some manual training classes, in which the children can learn paper cutting, painting, Chinese calligraphy and so on. Sometimes, they can learn to cultivate plants in the water. The parents are encouraged to participate in the whole teaching process with their children so that they can witness the progress the children have made and also understand the whole procedure thoroughly.
Families who send their children to Keats School to learn to speak Mandarin Chinese can enjoy delicious three meals a day as well as the clean and comfortable rooms for accommodation. It is safe and convenient that eating, living and learning in the same building. For parents who are considering taking their children to study in China, Kunming Keats School in Yunnan could be an option for their children to fully immerse in a Chinese language environment and master the Chinese language from an early age.
If the children are unable to physically come to China to learn Mandarin, they are suggested to take the online Chinese lessons offered by Keats School. The online Chinese lessons will not only help children learn Chinese with lots of fun, but also help children develop deep interest in Chinese language and Chinese culture. The online Mandarin lessons for children can help children prepare for a test in Chinese, a speech in Chinese, or Chinese homework at school.