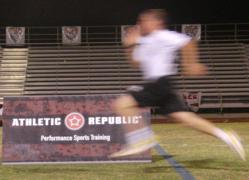 Park City, Utah (PRWEB) March 27, 2012
In theory summer training should be easier than any other time of year, what with more free time and longer days. The reality is that friends, family, vacations, and other activities can make summer training a challenge. Athletic Republic, a pioneer in performance sports training, surveyed athletes on what their goals and challenges were when it comes to summer training. Based on their input and Athletic Republics' 22 years of training experience, it has developed the following suggestions to keep athletes focused and motivated in order to see results during the summer months:
1. Establish a Plan – Sounds pretty basic but before you know it, July 4th weekend is here and you've totally neglected training during the month of June. Start building a plan in spring by evaluating your current performance and devising a plan to reach specific goals over the summer.
2. Make a Commitment to Training – With activities, camps, jobs and vacations to juggle during the summer, it's pretty easy to find an excuse not to train. Focus on the end goal of what you want to achieve at a select team try-out, up-coming tournament, or during the fall sports season to keep you motivated to maintaining your training schedule.
3. Improve Your Technique – Training the wrong way is not only counter productive but also puts you at risk of injury. Consider working with a professional trainer during the summer who can help you learn what it takes to move better, train smarter and increase your overall performance.
4. Stay Properly Hydrated – Many athletes make the mistake of taking their first drink after they've started a training session. It's critical to stay hydrated before, during and after your training sessions. When hydrating in the summer heat, water or sports beverages are your best options to replace fluid and electrolyte losses that occur through sweat.
5. Schedule Time for Recovery – Rest is a critical part of every athlete's training program. Adequate sleep, good nutrition, and properly planned workouts, will all contribute to your health and ability to maximize results from your training effort.
5½. Have Fun – After all, it's summer! Relax and enjoy not only your summer training program but also all the other activities you'll do with friends and family.
To find out more information about effective summer sports training visit Athletic Republic's website http://www.AthleticRepublic.com and learn how their "Summer of Speed" program, that comes with a flexible 16 punch "Speed Pass", will help athletes strike the perfect balance of improved performance results and summer scheduling flexibility.
About Athletic Republic:
Athletic Republic is the nation's leading franchisor of evidence-based performance sports training centers. Join the over 800,000 athletes who have taken advantage of its individualized, sport-specific training programs to enhance their speed, power, agility and sensory skills to gain more than just a step on their competition. More information regarding Athletic Republic can be found at http://www.AthleticRepublic.com.