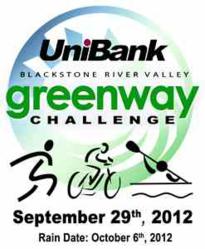 Register at the Greenway Challenge website: http://greenwaychallenge.org/Registration.html
WOONSOCKET, RI (PRWEB) March 27, 2012
Registration is now open for teams to enter the 2012 UniBank Blackstone River Valley Greenway Challenge — an adventure race where teams run, paddle, and bike in a variety of competitive divisions through Blackstone River Valley towns in Massachusetts and Rhode Island. The race is set for September 29, 2012.
The mission of the race — now in its 12th year — is to promote the recreational quality of life in the Blackstone River Valley. Working with the John H. Chafee Blackstone River Valley National Heritage Corridor Commission, and other partner organizations, the Greenway Challenge supports clean water campaigns, hiking and biking trails, wildlife projects, environmental education and development of waterway access.
Each year, the course is redesigned to provide returning athletes a new challenge as well as to showcase one of the most beautiful and historic regions of New England — the Blackstone River Valley National Heritage Corridor. The adventure race may total 50 to 60 miles and include canoeing or kayaking, street or mountain biking, and street or trail running. The official segments for the 2012 race will be announced on July 1st.
Teams may be comprised of company employees, neighborhood friends, classmates, club members, families or virtually any other group with a combined love of adventure, running, biking, and paddling competition, and the Blackstone River Valley.
The Greenway Challenge includes a variety of divisions to offer teams and participants opportunities ranging from intense competition to daylong fun:

Championship Division - For teams seeking purely the thrill of victory and the agony of defeat.
Corporate Cup - Teams must be comprised entirely of co-workers from the same organization, either for-profit or nonprofit.
All-Woman Teams - Teams consist of all female competitors.
Ironman/Ironwoman - For individuals with the spirit and determination to do the whole course on their own — with the aid of one support person. Trophies are awarded to the top Ironman and the top Ironwoman.
The Masters - An ideal event for Senior athletes. All participants must be 50 or older.
Recreational Teams - A lot of fun and a maybe a little competition. Teams are comprised of up to nine members in any combination of men, women, and youth aged 16 or older.
Individuals who wish to participate but don't have a team can contact the Greenway Challenge to connect with an existing team or to create a new one.
UniBank, with nine locations in the Greater Blackstone River Valley, joins the Greenway Challenge again in 2012 as Title sponsor. Joining in support are: Red Star WorldWear and Taco/The White Family Foundation as River Champion Sponsors, Whitin Community Center as Trail Blazer sponsor, Massachusetts State Representative George Peterson as Pace Setter sponsor, and the Town of Cumberland Parks & Recreation Dept. and "On the Border" Mexican Grill and Cantina as Friend sponsors.
To register, or for more information, visit the Greenway Challenge website at http://greenwaychallenge.org/Registration.html.
Follow the Greenway Challenge on Facebook at http://facebook.com/greenwaychallenge, on Twitter at http://twitter.com/greenwaychall, or on Google+ at http://gplus.to/greenwaychallenge.
# # #
Notes to Editors

o Barbara Dixon, Event Coordinator, barbara_dixon(at)nps(dot)gov, 401-762-0250
o Don Goncalves, greenwaychallengenews(at)gmail(dot)com, 401-474-3834