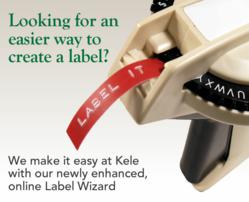 The online new label wizard allows the customers to make multiple labels during a single online visit and it has a powerful preview function - Donna Pineau, Kele's SEO and web manager
Memphis, TN (PRWEB) March 26, 2012
Kele, Inc., the leading supplier of building automation products, announces the launch of a new online label wizard for its customers.
Labels serve many important roles in the HVAC and Building Automation industry. Labels on valves, for example, ensure the valves are attached to the right piece of equipment in the right location. Proper labeling saves time and that means it save money.
The new online label wizard operates smoothly across a wide array of browsers and is more intuitive for users.
"The online new label wizard allows the customers to make multiple labels during a single online visit and it has a powerful preview function," said Donna Pineau, Kele's SEO and web manager who was involved in the wizard's development.
The plastic or paper labels are generated by Kele and shipped to the customer. Or, if the customer requests it, Kele can apply the labels to the components before they are shipped, so they arrive at their destination clearly identified and ready to go.
To try out the label wizard for your label needs, visit http://www.kele.com/label-wizard/.
Located in Memphis, Tenn., Kele, Inc. is the nation's leading distributor of peripherals for the Building Automation System /HVAC industry. The company carries products from more than 300 manufacturers, with most products in-stock and ready to ship the same day. If Kele cannot source a product, sister company, KPM may be able to manufacturer it specifically for the customer. The cornerstone of Kele's success is its "make it easy" service philosophy and its remarkable technical support, which is available free to customers online or by phone.