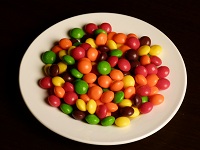 "As consumers have more discretionary income for luxuries like chocolate candy, demand will grow. That is the reason we are investing heavily in China and making this new product introduction now."
White Marsh, MD. (PRWEB) March 28, 2012
TIC Gums will introduce its TicaPAN 311 and TicaPAN Quick Crunch panning technology to the Asian confection market during the "Food Ingredients China 2012" trade exposition March 28-30, 2012 at the Expo Theme Pavilion, Shanhai, in booth 1J03. Food Ingredients China 2012 is the largest international show on food ingredients in Asia with over 1,000 exhibitors from 20 different countries.
While TIC Gums has had a presence in China for many years, this is the first, major new product introduction for the Asian market. TicaPAN was introduced to the European market in late January, 2012 and in the U.S. in August, 2011.
The TicaPAN Coating System
Because of its unique performance, gum arabic (also known as gum acacia) was historically the hydrocolloid used in panned candy and candy coated gum. But challenges inherent with its use prompted the development of TicaPAN. TicaPAN offers a 1:1 substitution for gum arabic, costs approximately 20% less and has comparable if not superior performance when compared to traditional gum.
This innovation offers confectioners in Asia a low cost, non-gum arabic based system that will exhibit the same or even superior functionality. TicaPAN binds and strengthens the sugar and sugar alcohol shell in panned confection, enrobes nuts, malt balls, chocolate candy and other sweets with oil containing centers.
TicaPAN Quick Crunch delivers a harder shell and dries more quickly than gum arabic. For chewing gum with a candy shell TicaPAN adheres the shell to the candy center, binds and strengthens coatings and help ensure a smooth, finished appearance. "Younger consumers in China are embracing Western tastes in many consumer items, including candy," said Greg Andon, president of TIC Gums. "As consumers have more discretionary income for luxuries like chocolate candy, demand will grow. That is the reason we are investing heavily in China and making this new product introduction now."
Lower Cost
The TicaPAN coating system offers savings over traditional gum arabic of approximately 20%. Whether for a chocolate covered nut, candy coated chocolate or colorful jelly bean, TicaPAN will improve the look and crunch of gumballs, chocolate and other confections. Lower costs with the added bonus of comparable if not better performance over gum arabic make TicaPAN a very sweet deal for candy makers in China and the rest of Asia.
About TIC Gums
TIC Gums is a global leader in advanced texture and stabilization solutions for the food industry. Food and beverage companies rely on TIC Gums to improve the texture, stability, consistency, nutritional profile, and shelf appeal of their products. Legendary customer service, high quality standards, and the unrivaled knowledge of our Gum Gurus® has made TIC Gums the industry leader for more than 100 years.