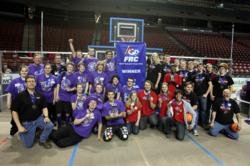 Watching this team grow from a new program into a regional winner in just three years has been truly amazing. These students have learned an immense amount, from engineering, to fabrication, to competing as prepared and gracious professionals
Salt Lake City, Utah (PRWEB) March 27, 2012
The Waterford School's High School Robotics Team, Ravens Robotics, recently won the 2012 Utah Regional FIRST Robotics Competition. Ravens Robotics and their alliance partners, Prototype X of the Leonardo Center, Salt Lake City, and Team Plasma of Mesa, Arizona, won a multi-day tournament that included 43 teams from 10 different states. FIRST Robotics Competition is an international high school robotics program that fosters the application of science and technology in a uniquely cooperative competitive setting.
The competition took place at the Maverik Center in Salt Lake City, March 15-17, with each team playing 11 matches to gain a spot in the elimination bracket. The Ravens Robotics team entered the elimination rounds as the underdog but worked closely with its two alliance partners to knock out the heavily favored number one alliance in the quarterfinal round. After this win, they were able to dominate the semi-final and final rounds. The winning alliance team of Ravens Robotics, Prototype X and Team Plasma is now invited to attend the FIRST Robotics World Championship in St. Louis, April 25-28.
This is the third year that the Waterford Robotics Team has participated in the Utah Regional competition. This year, the team demonstrated improved design, building, driver training, and game strategy. Students and mentors invested hundreds of hours mastering skills, prototyping, and testing subsystems.
"Watching this team grow from a new program into a regional winner in just three years has been truly amazing. I'm very proud of the skills and experience our students have developed this season. It was especially gratifying to watch as the team learned and adapted through the qualifying rounds and then performed at a high level all the way through the elimination bracket. Our two alliance partners, Prototype X and Team Plasma, were extraordinary and helped make the victory possible. It is fun to win, but most importantly, the students have learned an immense amount, from engineering, to fabrication, to competing as prepared and gracious professionals," said James Harris, Waterford Science Department Chair and Lead Mentor for the Ravens Robotics team.
Waterford's Ravens Robotics team is currently sponsored by NASA, Universal Industrial Sales, and The Waterford School. The team hopes to raise the funds needed to represent Waterford and the state of Utah at the World Championships in St. Louis, April 25-28, 2012. To support the team in their quest for a World Robotics Championship call Kate Edwards, Waterford School Director of Development, at 801-816-2231 or go to http://waterfordschool.org/giving.
For more information about the FIRST Robotics Competition go to http://www.usfirst.org/roboticsprograms.
The Waterford School is a private, liberal arts college-preparatory school located in Sandy, Utah, for students in preschool through grade 12. For more information visit http://www.waterfordschool.org.