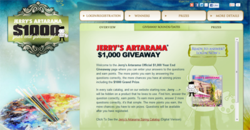 Raleigh, NC (PRWEB) March 28, 2012
Starting this spring, discount art supply retailer Jerry's Artarama is pleased to announce the opening of its $1,000 Year-End Giveaway, culminating on December 17th, 2012. Customers and website visitors of JerrysArtarama.com, the choice for amazing savings on art supplies will have multiple chances to participate in a scavenger hunt-like game to collect points for the chance to win one of multiple prizes, including $1,000 in cash.
Consisting of four rounds that coincide with sale catalog releases, Jerry's Artarama $1,000 Year-End Giveaway requires participants to answer a batch of questions in each round, the answers to which can be found either in the catalogs or on the website. Points are earned for every question answered correctly, and participants can keep track of their progress in their account on http://www.jerryscontests.com. Questions may be catalog-specific, related to certain art supplies, regarding Jerry's Artarama as a company, or similar options. No purchase is necessary to enter the contest, nor does a purchase increase a participant's chance to win.
Giveaway participants will be familiar with Jerry's Artarama as a leader in the art supply industry, specializing in fine art materials including artist paintbrushes, artist drawing supplies, watercolor, oil and acrylic paints, canvases, art papers, art instructional DVDs, pastels, markers, easels, art studio furniture, frames and much more. The questions on the $1,000 Year-End Giveaway will often refer to many of these art supplies, and are designed to help familiarize customers and visitors with the wide array of products offered at Jerry's Artarama.
Art supplies also comprise a selection of prizes during the Giveaway, with certain items like Ampersand panels, Turner watercolors, and various other options being given away throughout the year. Also included in the prize listing are year-long subscriptions to a selection of fine artists' magazines. The final prizes, given away at the close of 2012, include an iPad 2, a $500 cash prize, and the Grand Prize of $1,000. While some prizes will appear and be rewarded throughout the Giveaway period, the final and Grand prizes will be announced on December 17th, 2012. The more points a participant earns throughout the year by correctly answering the questions available online, the higher their chances of winning.
The publication of Jerry's Artarama Spring Sale catalog marks the beginning of the first round of the $1,000 Year-End Giveaway, with the end of the final round occurring on December 12th of this year. Those interested in participating in the Giveaway are encouraged to visit the official website at http://www.jerryscontests.com.