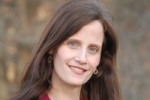 "Children learn from their parents and Diane is the best example of how taking control of your health can benefit the entire family," said Linda Frankenbach, founder and CEO of fitsmi.com and fitsmiForMoms.com
New York, New York (PRWEB) March 28, 2012
Diane Carbonell, author and formerly obese mother of seven children, will be a guest on fitsmi Radio on Thursday, March 29th at 3:30 pm (ET) to share what motivated her to lose 150 pounds, how she did it and how she's kept it off for 14 years through four pregnancies and numerous life changes. Linda Frankenbach, founder and CEO of fitsmi.com and fitsmiForMoms.com, will host the live half-hour radio program.
Ms. Carbonell, who at one time reached a peak weight of 305 pounds, will discuss her "Fit to the Finish" do-able three point program and her new book, 150 Pounds Gone Forever: How I Lost Half My Size And You Can Too." As a mother and now a family weight-loss coach, she will share her thoughts on the role of the parent in the national obesity crisis and her personal tips for getting and staying healthy.
"I'm delighted to have Diane on fitsmi Radio," said Linda Frankenbach. "The mission of fitsmiForMom.com is to give parents the support they need to help their children get on a healthy track. Children learn from their parents and Diane is the best example of how taking control of your health can benefit the entire family."
Ms. Carbonell is a nationally recognized advocate for overweight moms to find time to take care of themselves, which will in turn create a stronger and healthier family as a whole. The interview will become available on podcast at fitsmi Radio.
fitsmi Radio specializes in interviewing experts, authors and celebrities on health and weight related issues for teen girls and on alternating weeks, covers topics of interest to parents of overweight children.
About fitsmi.com and fitsmiForMoms.com:
fitsmi.com is a web community where teen girls (ages 13-18) struggling with their weight can go to feel good about themselves, get reliable information, laugh, build friendships, find support, set goals and stay on track by using fitsmi.com's Change Machine. fitsmi's Change Machine, and the mobile version, fitsmi2Go, were designed to help girls create personal daily attainable goals that help create positive healthy and sustainable change, as well as to be a social network where girls can support each other.
fitsmiForMoms.com, a web community for parents of children struggling with their weight, is a separate companion site to fitsmi.com. fitsmiForMoms.com offers support, information and guidance to help parents make healthy choices for their children and to help them through the challenges of having an overweight child.